Press release
March 4, 2016
Business psychology
Training
Development
Business
Wealth Management Industry
Education
Successful women in business
Right now, you can sign up 3 of your employees for our Mini MBA Programme and receive 3 brand new iPads for a total price of only 27,500 AED (Normal Price 37,500 AED)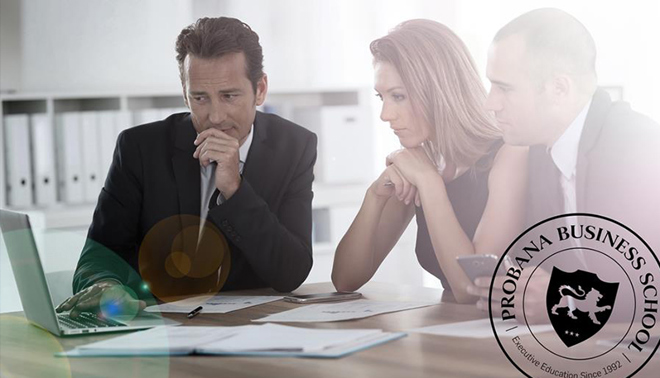 Probana Business School is the leading Executive Training provider in Europe
Every year, inefficient leadership routines cost companies billions of Emirati Dirhams. Good leadership is good business. Therefore, is it crucial to the success of Emirati companies that they invest in talent development of their leaders – their future profits and growth depends on it.
At Probana Business School, we specialise in Executive Training and we want to make sure that your company attracts and keeps the best talents.
The development of a company's leader – and hereby of the company itself – continuously requires new knowledge, inspiration and leadership tools. THIS is what Probana's Mini MBA offers, and THIS is why we have become the leading Executive Training provider in Europe.
Today, we provide our Mini MBA Programme for business leaders all over the world. There are 5 main reasons for our gigantic international success:
HIGHEST LEVEL OF EDUCATION - The Mini MBA is directly inspired by Harvard's MBA, and we have collected the best experts, leading MBA professors and most successful top leaders to share their knowledge within Leadership and Business Strategy.
CONTEMPORARY AND RELEVANT -What was a 'cutting edge' solution yesterday will not be so tomorrow. Our training is always based on the newest knowledge and strategies.
TIME EFFICIENT - The Mini MBA is extremely flexible and the participants do not have to put their career on hold while obtaining it.
COST EFFICIENT The Mini MBA only costs a fraction of the average college fee; your company is saving thousands of Emirati Dirhams
NETWORKING - Joining the Mini MBA Programme means joining an exclusive league of ambitious and talented business leaders from all over the world. Our workshops in Dubai take place at the exclusive Nassima Royal Hotel.
EDUCATING MORE THAN ONE LEADER AT THE SAME TIME PAYS OFF
We know from our biggest clients (Ericsson Dubai, Maersk Oil & Gas, Cegelec Oil & Gas, Emirates Airline, Emirates Engineering, First Gulf Bank, The Boeing Company, IBM, Ajman Bank, and Pfizer, just to name a few) that sending leaders and employees from the SAME company to attend the SAME programme, is a huge advantage. By attending together, the company ensures a strong foundation for task solution in the future, as the employees gain equal competences and will be much better equipped to help each other by sharing knowledge and having a mutual understanding. The company will strengthen its internal communication and collaboration. Read some of their statements and recommendations here
EDUCATION WITH A LUCRATIVE ROI
Motivated, inspired and talented leaders are your organisation's most valued asset. Investing in your leaders is both profitable and necessary.
It is necessary because the most talented and ambitious leaders strive for excellence and career boosting qualities, and will seek employment within organisations that can provide this. Offering them new knowledge, tools and inspiration that enable them to create their desired career will ensure their continued enthusiasm for your company.
It is profitable because well-educated and driven leaders will be able to create the desired results for their organisation and consequently have a positive impact on the financial revenue. The ROI is unmistakeable.
READ MORE ABOUT THE SUCCESS AND SIGN UP YOUR EMPLOYEES AT WWW.PROBANA.AE
Send Mr. Morten Nybye an email to learn more at [email protected]
or call us at +971 (4) 813 7722
Subjects
---
Business psychology
Training
Development
Business
Wealth Management Industry
Education
Successful women in business