Press release
December 11, 2017
Art
China
Development
Uabb
Urban villages
Shenzhen
Free event
Biennale
Curator
Social issues
Admissio
Architecture
Urban develop
Renowned art critic Hou Hanru and architectural experts Liu Xiaodu and Meng Yan collaborate to present "Cities, Grow in Difference"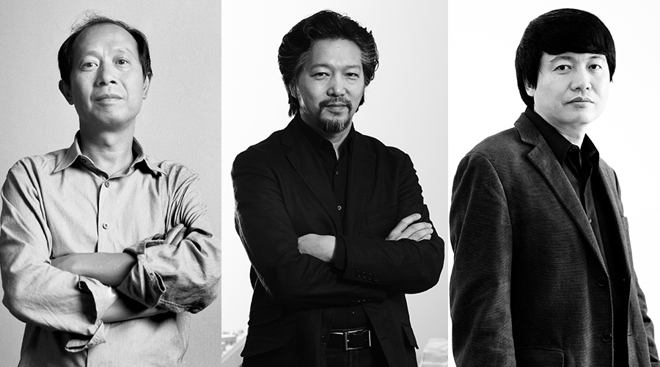 (Dec 10, 2017, Shenzhen) The Bi-City Biennale of Urbanism\Architecture (UABB), the only exhibition in the world to explore issues of urbanization and architectural development, will be opening for its 7th edition on December 15th, 2017. This year UABB will be held at Nantou Old Town in Nanshan district, an urban village that was once the administrative center of the Bao'An County. Hou Hanru, Liu Xiaodu, and Meng Yan (in alphabetical order) make up the curatorial team, all known for notable accomplishments across their respective fields. UABB is thrilled to host more than 200 award-winning exhibitors from 25 countries to share their perspectives on diversity and urban villages at this year's biennale.
A prolific writer and curator based in Rome, Paris, and San Francisco, Hou Hanru is the artistic director of MAXXI, National Museum of the 21st Century Arts. With degrees from the Central Academy of Fine Arts in Beijing, Hou move to Paris for 16 years where he served as an independent curator and critic, Director of Exhibitions and Public Programs, and Chair of Exhibition and Museum Studies at the San Francisco Art Institute. Over the past two
decades, he has curated and co-curated more than 100 exhibitions in cities around the world including Shanghai, Guangzhou, Istanbul, Venice, Lyon, Auckland, and Johannesburg. He is also a founding member of the Guggenheim's Asian Art Council, a curatorial think tank group. Hou has also lectured in various universities and museums across the world.
Principal and co-founder of URBANUS Architecture & Design Inc. and current chairman
for the first Shenzhen City of Design Promotion Association, Liu Xiaodu has co-led many architecture design projects, including Greater China IFC. He was an academic committee member of the Bi-City Biennale of Urbanism\Architecture and serves as first chairman for the Shenzhen City of Design Promotion Association. Liu has participated in many international architectural exhibitions and academic events around the world, and his major curatorial experience is the China Pavilion of 2016 London Biennale. Liu Xiaodu studied at Tsinghua University and Miami University in Ohio. He served in the school of architecture at Tsinghua University,University of Hong Kong, and University of Venice.
Meng Yan is the Principal and Co-founder partner of URBANUS Architecture & Design Inc. Yan studied at Tsinghua University and Miami University, and is a licensed architect in the state of New York. He was chief curator of the Shenzhen Pavilion in the 2010 Shanghai Expo and participated in other curatorial projects such as the International Venice Architecture Biennale. Meng was a juror for numerous international design competitions and has given lectures at academic institutions around the world. Additionally, he has designed numerous projects over the years that have earned an international reputation for URBANUS. Meng's work focuses on the key issues of Chinese development, including the social and cultural issues of rapid urbanization, urban villages, and urban regeneration research.
For more photos, please clickhere.
The Bi-City Biennale of Urbanism\Architecture 2017 (Shenzhen)
December 15, 2017
Nantou Old Town, Shenzhen
Subjects
---
Art
China
Development
Uabb
Urban villages
Shenzhen
Free event
Biennale
Curator
Social issues
Admissio
Architecture
Urban develop