Press release
May 23, 2014
Free Game
App
Puzzle Game
IOS Game
2048 Sheep
Latvia
Use your logical skills to join an adventure of two sheep – Norah and Dorian by swiping cells and merging identical tiles.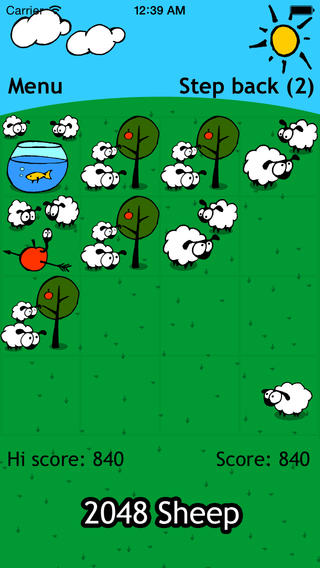 Riga, Latvia – May 23, 2014 -2048 is an addictive puzzle game to train your mathematical and logical skills, yet it was brought further than simple 2 in powers. Numbers were substituted by hand-drawn icons of two cute sheep, who for the first time discover 'The Big World'. Once two similar tiles are merged, you can see what is next sheep have done, e.g. shoot an apple down from Dorian's head or caught a fish with a worm they have found previously.
Developers were inspired by the simplicity of 2048 principle, yet they missed a touch of visual prettiness and an appealing story behind. Thus, they created this plot, where two young sheep meet, have fun and eventually fall in love with each other and at some point they even meet a couple of giraffes. Drawings were painted by hand and then processed on computer in order to keep personal feel of developers.
2048 Sheep free game is available to download for iPhones with iOS 7.0 and later. The game has a Game Center integration for Leaderboards and Challenging Friends.
You can easily access the Game in iTunes by clicking the link:
https://itunes.apple.com/us/app/2048-sheep/id870111030?ls=1&mt=8
Press Contact:
Anna Skaceka
+371 28455574
Subjects
---
Free Game
App
Puzzle Game
IOS Game
2048 Sheep
Latvia