Press release
May 23, 2014
Balance bikes
Sustainable living
Mother
Sustainability
Toddler
GreenChamp Bikes will be available on Kickstarter from 30th May to 30th June.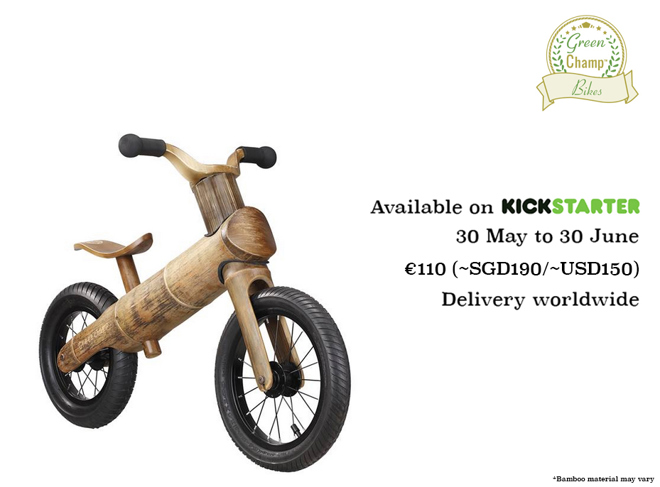 GreenChamp Bikes, a new and dynamic start-up, makes balance bikes for children from as young as 18+ months to 5 years, out of bamboo! GreenChamp Bikes came about because of the founders' belief that children's toys should be made from eco-friendly, sustainable materials, to encourage parents to educate their children on the environment from a young age, in the hope that this will go a long way in providing them with a greener future. Besides its eco-friendliness, GreenChamp bamboo balance bikes are lightweight and super durable, ensuring easy maneuvering for young kids who are first learning to ride a bike.
GreenChamp bamboo balance bikes is the brainchild of Daniel and Sunny. Sunny went around the world on a solo expedition that spanned 6,123 km on his first handmade bamboo bicycle. After returning, he met his Dutch Cycling partner, Daniel, who shared the same passion for cycling, sustainability and bamboo.
After studying many children's bikes, they saw many balance bikes already in the market that were not sustainable (e.g. made from plastic, ply wood and aluminum) and lacked the lightness and durability of bamboo. They spent 2 years at the drawing board and came up with a bamboo balance bike for young kids to bring the joy of riding a bamboo bike.
Here are some facts about GreenChamp Bikes:
1) Made from Bamboo, one of nature's most renewable sources of raw material:it requires only sunlight and water and grows very fast, up to 1 meter a day!
2) Specially developed bamboo technologies:GreenChamp uses two specially developed technologies during production. Honey is infused into the bamboo fiber to prevent cracking. Also GreenChamp bike frames are double-walled, in which 1 bamboo is fused between 2 bamboo walls to ensure the durability of the bike. This also increases the bamboo frame strength by approximately 50%.
3) Smoothest ride possible for your child: Our nature-based joints and bamboo framework promotes the smoothest ride possible for your child, so no matter how they ride, the vibration dampening effects of our natural materials compliment their riding style for a glide-like feeling with maximum comfort.
Daniel Heerkens, of GreenChamp Bikes hopes that "through the GreenChamp Bike, parents will be encouraged to educate their young children on the environment and provide their children with a greener future".
Go to http://www.greenchampbikes.com/ and sign up for the newsletter to be updated for the Kickstarter launch. For more information, Like us at: https://www.facebook.com/greenchampbikes
Subjects
---
Balance bikes
Sustainable living
Mother
Sustainability
Toddler