Press release
August 1, 2019
N-BiG
Biomass
Bush
Bush encroachment
Farming
Namibia
Namibia is supposedly a "cattle country" but is this really what we are? I would argue that with over 45 million hectares of farmland covered by bush encroachment, that maybe we should consider re-defining ourselves.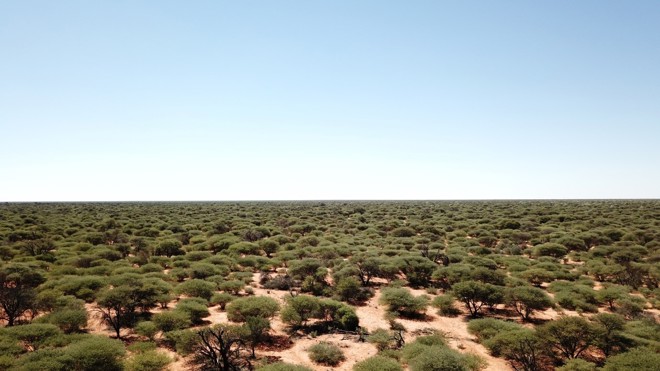 Our livestock sector is currently suffering due to the on-going drought, but to be honest, it was struggling long before the drought, and it will continue to struggle long after this drought is over. The reality is that the ever increasing input costs have been eroding the profit margins on traditional livestock production systems for a while now.
I was recently told that farmers here should not consider themselves as livestock farmers, but rather, grass farmers, where livestock is just a by-product of that grass. This struck me as insightful, but after further thought, taking the current state of our rangelands into account, if that is the case, then our farmers are also terrible grass farmers.
But, what if we considered ourselves as "bush farmers"?  On average, bush encroached land has an average of 10 tonnes of sustainable and renewable bush biomass available per hectare, over 45 million hectares of land. This bush can be converted into animal fodder, charcoal, biochar, compost, energy, composite materials, and the list goes on.
At current value, 10 tonnes of biomass is worth over N$ 5 000 in charcoal and bush fodder equivalents per hectare. This means that the average bush encroached commercial farm of 5000 hectares has up to N$ 25 million worth of biomass revenue available, far more than any livestock would be worth. Naturally, the biomass also needs to be sustainably managed, much like any agricultural process, but it begs the question, are we cattle farmers, grass farmers, or bush farmers?
It probably doesn't matter what we call ourselves, but what does matter is that we make the most of the resources available to us. And to do that, we have to understand what resources we have and how to use them. The fact is, biomass is
For anyone interested in turning biomass into business, the upcoming Biomass Technology Expo 2019 is the place to be. The expo will showcase over 100 exhibitors, demonstrate over 50 technologies, and host over 35 local and international speakers. The focal areas of the expo are bush-based animal fodder (Bos-Kos), charcoal and biochar production, biomass energy generation, composites, harvesting, research and development and more.
The Biomass Technology Expo, taking place on Friday, 9th of August, at Otjiwa Safari Lodge, 40 km south of Otjiwarongo is open to the public. Get your ticket online, at Webtickets Namibia, or in person at any Pick'n'Pay.
Authored by Colin Lindeque, General Manager of the Namibia Biomass Industry Group (N-BiG), a non-profit industry association for the biomass sector in Namibia. For more information, visit www.n-big.org
Biomass Energy Facts
Namibia currently has an estimated 45 million hectares affected by bush encroachment.
On average, over 10 tonnes of bush biomass is available for harvest per hectare.
10 tonnes of biomass is worth N$ 5000 in charcoal and bush fodder equivalents
An average 5000 hectare farm has 50 000 tonnes, worth N$ 25 million
Namibia has an estimated 450 million tonnes of encroacher bush biomass
Contacts
---
Subjects
---
N-BiG
Biomass
Bush
Bush encroachment
Farming
Namibia