Press release
April 15, 2016
Business school
Leadership
Strategy
Education
Networking
Learning
Business
Top-level management is imperative to an organisation's top and bottom line growth and its success with developing and retaining its employees. Supplementary education is therefore a necessity to ambitious business professionals.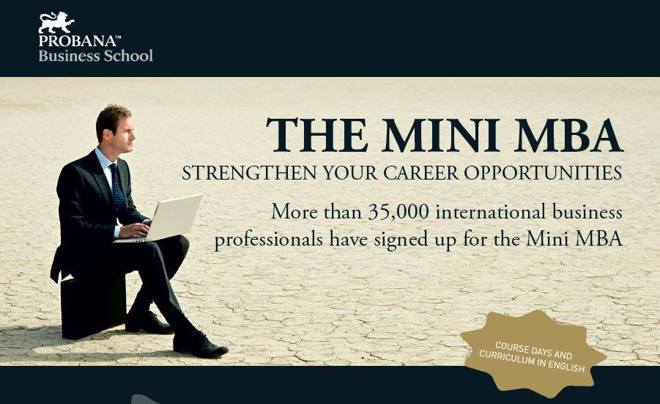 Talented employees might benefit the organisation, but if they are not led by proper management you will not get the full output of their potential. Regardless of where you are in your career, it is vital that leaders are able to motivate, develop and create a sense of direction. Where do you learn to become a good leader? At educational institutions, we are equipped with theoretical knowledge and at work, we gather experience. However, it is not until we become established business professionals that we are able to grow as leaders. It is exactly at this point in time that we need flexibility with leisure, kids, family, and friends, but it does not mean that you cannot register for a supplementary education. It is a fact that the development of an organisation's leaders continuously demands new inspiration, knowledge and concrete tools. PROBANA's international Mini MBA Executive Programme delivers just that and is highly sought after by many leaders in both private and public sectors.
Full Flexibility in 2016
We are all familiar with deadlines, picking up our kids from day care and the ever-increasing demands of a volatile every day. All things must come together when you have the ambition of becoming a successful leader. Read more hereMini MBA. Throughout the years, more than 35,000 business professionals have completed our Mini MBA Programme. These are ambitious business professionals who have not yet acquired supplementary education of the traditional kind. They are ambitious people who want to be further educated on HR, Economics, Business Development, and Strategy. All course participants have benefitted from the e-learning platform, through which all course material is accessible.

Three Ways to Success
In addition to the e-learning platform, we offer course days through which you will acquire a stronger network of ambitious leaders. People who appreciate the importance of a network are priceless. To put it bluntly, there are three ways to success; Hard work, contemporary knowledge and a strong network. Contemporary knowledge and networking are made available at our Mini MBA. The hard work and the desire to learn are provided by you.

Global Supplementary Education for All
As corporate life becomes more international, so does our Mini MBA by providing knowledge that crosses borders the way growth, innovation and competition do. At Probana, we offer our Mini MBA globally to be able to strengthen the international level. The demand for bright minds are developing, and we want to contribute to this development.
Subjects
---
Business school
Leadership
Strategy
Education
Networking
Learning
Business