Press release
September 27, 2021
NamiGreen
Printer cartridges recycling
Recycling
Recycling Africa
Namibia
Africa
E-waste
Weee
WEEE Recycling
Weee disposal
Due to increased administrative burdens for managing recycled printer cartridges, NamiGreen unfortunately no longer pays for printer cartridges.
For more than 2 years, NamiGreen E-waste, has paid clients for their used printer cartridges to increase recycling in Namibia. The benefits of recycling printer cartridges is to prevent landfilling, pollution and reuse material that would other be lost. The Namibian recycling scheme has been a success for the country but unfortunately the administrative burden of inspecting, verifying, and paying for the used printer cartridges, has become too large for NamiGreen for it to be economical. From September 27, 2021 NamiGreen will no longer pay for recycling of printer cartridges.
NamiGreen continues to recycle printer cartridges and all other electronic waste, and will accept any used and broken printer cartridges from companies, private persons and organizations in Namibia.
Any clients with outstanding balances will be paid in the coming weeks, and NamiGreen asks for patience as it is quite a large task.
Subjects
---
NamiGreen
Printer cartridges recycling
Recycling
Recycling Africa
Namibia
Africa
E-waste
Weee
WEEE Recycling
Weee disposal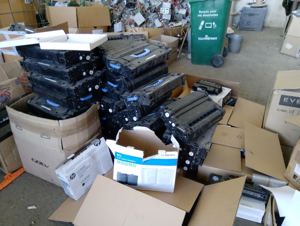 Printer cartridges comes in many forms and sizes. Here are typical laser printer cartridges ready to be recycled. The image is free of use as long as it is being credited. Credit: NamiGreen
Download | 1.76 MB | 3488 x 4640 | .jpg
Zip and download all files