Press release
November 15, 2019
E-waste
Namibia
Electronic waste
Recycling
Recycle my laptop
Recycling Africa
Republikein and Namibian Sun are putting a focus on recycling e-waste with its latest piece on NamiGreen.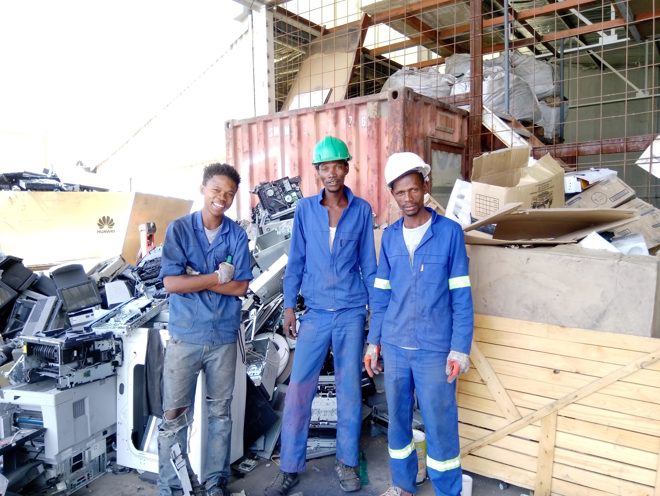 NamiGreen was featured in Republikein and Namibian Sun Careers section on Friday 15/11/2019.
An excerpt from the article:
Eliminate your e-waste - recycling is everyone's business
Being environmentally responsible has become a core part of not only organisations, but the community at large. NamiGreen is an electronics waste management company that aims to rid Africa of e-waste using safe and legal recycling procedures and thus creating local job opportunities.
The chief executive officer of NamiGreen E-waste, Per E. Hansen, believes recycling is the responsibility of each and every person within the community.
"Recycling is important for all, not just companies. If we don't want to 'live in a trashcan,' recycling is for us. Companies and government, however, have an extended responsibility as they are major consumers of electronics."
To read the full story please click here: https://zone.my.na/news/eliminate-your-e-waste2019-11-15/
Thank you Namibian Sun and Republikein for supporting the mission, and special thanks for Mariselle Stofberg for reaching out and writing the article.
https://www.republikein.com.na/
Subjects
---
E-waste
Namibia
Electronic waste
Recycling
Recycle my laptop
Recycling Africa
Willie Isakar, Lukas Njamba, Carlos Gawaxabare are some of the employees of NamiGreen E-waste Recyclers. Here all seen in front of the warehouse where all electronic waste is recycled and processed.
Download | 2.96 MB | 3488 x 4640 | .jpg
Zip and download all files