Press release
March 24, 2020
E-waste
Africa
Container World
Container
Namibia
Recycling
NamiGreen E-waste has partnered with the leading container storage company in Africa, Container World Namibia to increase e-waste collection rates.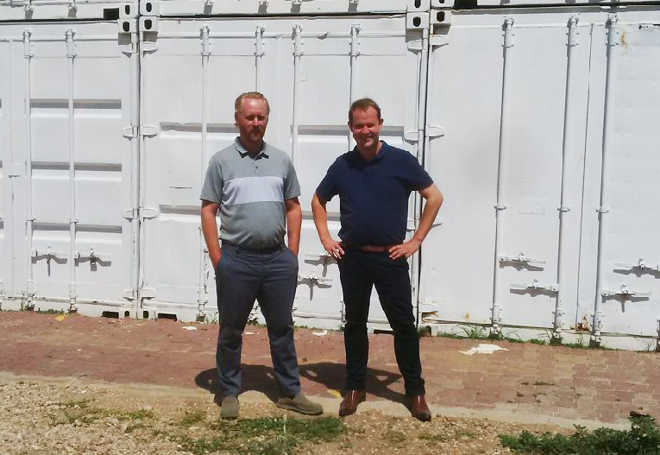 Container World (https://www.containerworld.com.na/), a Namibian company that offers short- and long-term container storage for businesses or for personal use, have recently partnered with NamiGreen E-waste to fight the growing amounts of e-waste in Africa.
"As part of Container Worlds commitment to a green environment, Container World sees it important to encourage and provide support to good initiatives such as the NamiGreen E-waste operation", says Mathieu van Hout, sales manager of Container World and continues "at Container World we are focused on container storage and rentals but with this initiative we are helping Namibia go green. At our storage facility in Prosperita, Windhoek we have made space for a green e-waste recycling bin to help people recycle their old and used electronics, which would otherwise typically end up in a landfill and pollute the environment."
Facilitating convenience for e-waste recycling in Namibia
NamiGreen has placed e-waste bins and collections points at various sites in Windhoek and Walvis Bay, where citizens and companies can drop-off their electronic waste. The bin at Container World adds to the growing amount of drop-off points (see full list here https://www.namigreen.com/dropoff).
"For NamiGreen, it is important to increase awareness about e-waste so that more people actually recycle their used and broken electronics. Also important, is facilitating convenience", says Per Hansen, CEO of NamiGreen.
With this partnership, NamiGreen pursues its quest to increase recycling rates even further after a stellar 2019 that saw Namibian e-waste recycling rates increase a 100% compared to 2018 (https://www.pressport.com/int/namigreen/pressreleases/e-waste-recycling-rates-doubles-in-namibia-26162).
###
Fact box:
Container World, established in 2000.
Offering storage solutions for clients all over Namibia. Container World also does container conversions to create office space, ablution facilities, housing and camps for both private individuals and businesses.
NamiGreen E-waste, established in 2018 with roots dating back to 2013 is the premier electronic waste recycling company in Namibia. NamiGreen recycles used and broken electronics for companies and private individuals in Namibia.
Subjects
---
E-waste
Africa
Container World
Container
Namibia
Recycling
Container storage in Prosperita, Windhoek, Namibia
Download | 1.16 MB | 3488 x 4640 | .jpg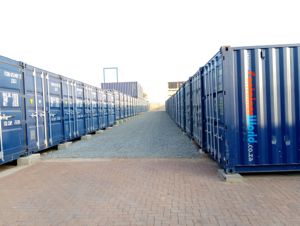 At the Container World Prosperita site, customers can rent self-storage space in a secure facility.
Download | 1.96 MB | 3488 x 4640 | .jpg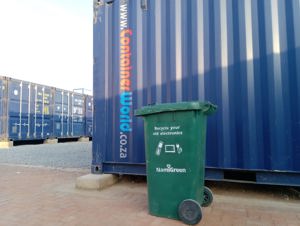 The e-waste bin at Container World Namibia's storage facility in Prosperita.
Download | 1.37 MB | 3488 x 4640 | .jpg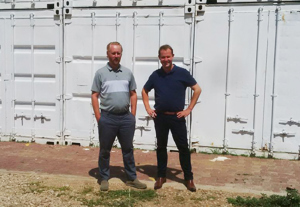 Mathieu van Hout of Container World, and Per Hansen of NamiGreen E-waste in front of some of the containers that Container World rents out to clients in Namibia.
Download | 0.27 MB | 527 x 765 | .jpg
Zip and download all files