Press release
January 11, 2019
Electronics
Recycling
Africa
Electronic waste
Recycle my laptop
Namibia
Walvis Bay
E-waste
Windhoek
Times are changing in Namibia - recycling rates of electronic waste are increasing and 2018 was the best year so far.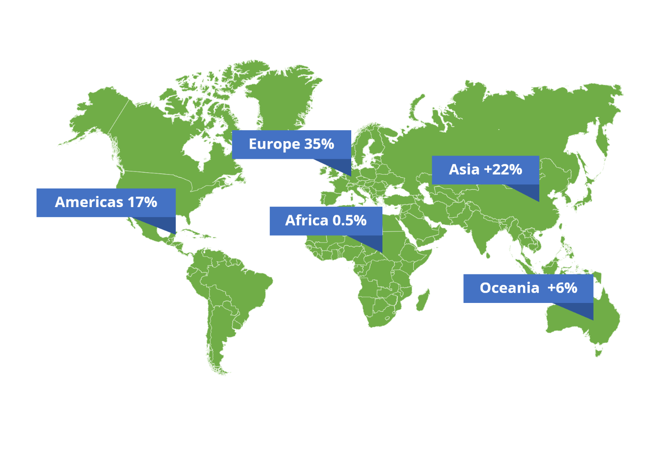 Namibia as well as NamiGreen, a local e-waste recycling company located in Windhoek, had a good year in terms of recycling electronic waste (e-waste). According to the company's internal records more than 50,000 kg of e-waste were recycled, which is 52 % more than in the period 2015-2017 combined. On average a standard computer monitor weighs around 10 kg, which means the operations at NamiGreen recycled equivalent to 5,000 computer monitors - in just one year. Or said in another way, that is 5,000 computer monitors not ending up in a landfill harming precious ecosystems in Namibia.
The company attributes its major growth in e-waste recycling to increased awareness amongst the Namibian communities and companies, a lean operation as well as tenacious employees.
On a global scale, e-waste recycling rates leaves room for improvement
Forecasts for 2019 reveal more growth and NamiGreen is expected beat previous e-waste recycling rates. - Something that will put a dent in the appaling recycling rates seen - not just in Africa - but in most countries worldwide. According to the United Nations, 80 % of all e-waste generated annually on global scale, is not recycled.
The standard practice in Namibia for many years was to landfill electronic waste but instead NamiGreen now creates jobs and removes the hazardous materials from the environment to avoid pollution of soil and underground water.
"E-waste contains hazardous components and must be safely handled by trained professionals. NamiGreen ensures legal compliance, a policy of zero landfill dumping and the safety of our staff. E-waste does not belong in a landfill.", says the CEO of NamiGreen, Mr. Per E. Hansen.
Free e-waste collection service and more growth in 2019
Entering 2019, the company continues its growth strategy and expects to partner with more companies as well as citizens to start recycling e-waste properly. NamiGreen E-waste already works with some of the largest companies and organizations in Namibia and recently installed e-waste bins at the Ministry of Education compound in Government Office Park, Windhoek.
"Citizens can easily recycle their electronnics by placing it in one of the many e-waste bins we have in Windhoek", says the CEO and continues "we offer companies and organisations a free e-waste collection service, where they simply call us or can go to our website - www.namigreen.com and book an e-waste collection online in a few minutes. That has been very well received and we expect even more companies to use the service in 2019".
###
Fact box:
E-waste or electronic waste is the fastest growing waste stream in the world according to the United Nations
More than 44.7 million metric tonnes of e-waste was generated globally in 2016 (latest figures) - that number is expected to increase to more than 52 million metric tonnes in 2021 according to the UN
80 % of global e-waste is not recycled (UN)
The continent with the highest recycling rate is Europe, recycling 35 % of all its e-waste, Asia comes in 2nd with 22%, Americas 17 % and Oceania with 6%. Africa recycles around 0.5 % (UN)
Subjects
---
Electronics
Recycling
Africa
Electronic waste
Recycle my laptop
Namibia
Walvis Bay
E-waste
Windhoek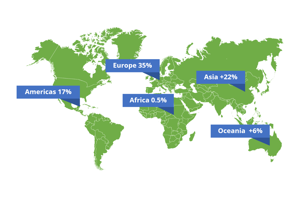 Times are changing in Namibia as a local e-waste recycling company, NamiGreen, increased e-waste recycling rates in 2018. There is still a way to go but steps are taken in the right direction. The continent with the highest recycling rate is Europe, recycling 35 % of all its e-waste, Asia comes in 2nd with 22%, Americas 17 % and Oceania with 6%. Africa recycles around 0.5 % (UN). Foto credits: NamiGreen
Download | 0.22 MB | 993 x 1460 | .PNG
Zip and download all files