Contact person
Mr. Hansen is the CEO and Founder of several companies. NamiGreen E-waste is the latest strategic investment for the PEHANSEN Group.
Press release
October 5, 2020

The Village in Windhoek and NamiGreen E-waste has announced a partnership to recycle e-waste from citizens and companies.
Press release
March 24, 2020

NamiGreen E-waste has partnered with the leading container storage company in Africa, Container World Namibia to increase e-waste collection rates.
Press release
March 23, 2020

E-waste recycling company NamiGreen and broadcasting company MultiChoice makes history in both Namibia/Zambia as they are the first to move e-waste across the borders.
Press release
February 13, 2020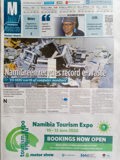 Republikein, Namibian Sun and Allgemeine Zeitung helps spread the word about e-waste.
Press release
February 12, 2020

Local e-waste joint-venture, NamiGreen, recycled the equivalent to 10,000 computer monitors in 2019 - a 100 % increase from previous year.
Press release
August 28, 2019
NamiGreen was recently featured in NBC Namibia to explain how e-waste is processed at our Windhoek facility.
Press release
July 4, 2019

Too often companies and individuals throw out their used and empty printer cartridges for inkjet printers and laser printers. That's bad - both for the environment for but also money-wise.
Press release
May 1, 2019

The Document Warehouse and NamiGreen announces partnership to work on the growing amount of used and broken computers, phones and electronics
Press release
February 1, 2019

The millions of tons of electronic waste that the developed countries dump in other countries must be controlled, says the UN in a new report.
Press release
January 11, 2019

Times are changing in Namibia - recycling rates of electronic waste are increasing and 2018 was the best year so far.
Press release
November 27, 2018

With job creation stagnant and e-waste problems increasing, a company called NamiGreen has commenced operations throughout Namibia with twin goals in mind. The company seeks to jump-start both electronic waste recycling and employment through gathering and processing old cell phones, computers, television sets, and other devices. To advance this goal, NamiGreen has created a partnership with the Ministry of Education.
Press release
October 10, 2018

According to WHO, waste electronics (e-waste / WEEE) are polluting drinking water and harming ecosystems around the world when e-waste a improperly handled.