Contact person
Mr. Hansen is the CEO and Founder of several companies. NamiGreen E-waste is the latest strategic investment for the PEHANSEN Group.
Press release
November 24, 2021
The partnership between MultiChoice and NamiGreen is saving a little bit of Namibia everyday by aiding citizens safely dispose of the old and discarded electronics.
Press release
November 3, 2021

Ecorobotics in Namibia has partnered with NamiGreen to aid citizens rid their electronic waste or e-waste.
Press release
October 13, 2021

As reported by the UN, in 2021 people worldwide will generate an average of 7.6 kilograms of e-waste, a figure that translates to 57.4 million tons globally.
Press release
September 27, 2021

Due to increased administrative burdens for managing recycled printer cartridges, NamiGreen unfortunately no longer pays for printer cartridges.
Press release
August 13, 2021
MultiChoice Namibia and NamiGreen announces a partnership that will have a large impact on recycling in Namibia.
Press release
June 8, 2021

Despite 2020 being a year with COVID-19 restrictions, Namibians have recycled more e-waste than ever. NamiGreen E-waste publishes their annual e-waste statistics.
Press release
October 5, 2020

The Village in Windhoek and NamiGreen E-waste has announced a partnership to recycle e-waste from citizens and companies.
Press release
March 24, 2020

NamiGreen E-waste has partnered with the leading container storage company in Africa, Container World Namibia to increase e-waste collection rates.
Press release
March 23, 2020

E-waste recycling company NamiGreen and broadcasting company MultiChoice makes history in both Namibia/Zambia as they are the first to move e-waste across the borders.
Press release
February 13, 2020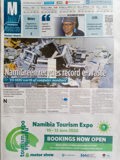 Republikein, Namibian Sun and Allgemeine Zeitung helps spread the word about e-waste.
Press release
February 12, 2020

Local e-waste joint-venture, NamiGreen, recycled the equivalent to 10,000 computer monitors in 2019 - a 100 % increase from previous year.
Press release
August 28, 2019
NamiGreen was recently featured in NBC Namibia to explain how e-waste is processed at our Windhoek facility.