Prensa
enero 29, 2014
Golf days
Golf in spain
Adidas golf
Las colinas golf
Mick the grip
Costa blanca
Taylormade golf
Costa calida golf tours
This week saw the first event of the newly formed Costa Calida Golf Tours Golf Days challenge at Las Colinas; what a day it was and a fantastic start to this exciting new all year round amateur golf challenge.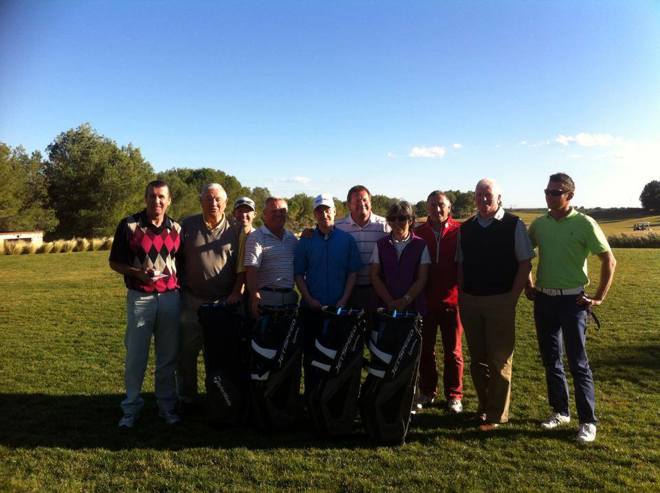 Monday 27th January saw the 1st event of the newly formed Golf Days challenge at Las Colinas Golf and Country Club.
Following hot on the heels of the success of the Costa Calida Golf Challenge in 2013, Golf Days looks set to be the best ever all year round amateur golf challenge yet in the Costa Blanca and Costa Calida regions.
Costa Calida golf Tours have formed the Golf Days challenge after listening to feedback from players and clients last year, the new format sees each player in either a 2 or 4 person team and the format will revolve through the year between stableford, strokeplay, texas scramble and more.
The weather at Las Colinas was fantastic with temperatures reaching a lovely 22 degrees during the day; the course as always was in excellent condition.
With prizes up for grabs from Golf Days sponsors TaylorMade, Adidas Golf, The Great Golf Company Balsicas and Costa Calida Golf Tours, competition was fierce.
The results were as follows;
Winners - Les Cox & Kyle Chambers 39 points
Runners Up - Alan MacDonald & John Aitcheson 35 points
The feature holes sponsored by TaylorMade, Mick "The Grip" Reeves and The Great Golf Company Balsicas;
Nearest to pin in 1 shot - Gary Ward
Nearest to pin in 2 shots - Scotty Phillips
Nearest to pin in 3 shots - Maciek Sztander
Longest Mens Drive - Keith Morrison
Longest Ladies Drive - Corine Jones
The 2's pot was shared by 3 players - Kyle Chambers, James Woodham and Alan McDonald.
Event 2 takes place at Hacienda del Alamo on Monday 24th February. For booking information and more information on events throughout the year please visit https://www.ccgt.co.uk/website/1409/2014-Golf-Days.
You can follow Costa Calida Golf Tours at https://www.facebook.com/CostaCalidaGolfTours.
Temas
---
Golf days
Golf in spain
Adidas golf
Las colinas golf
Mick the grip
Costa blanca
Taylormade golf
Costa calida golf tours