Pressemeddelelse
juli 9, 2014
Oplevelser
Bæredygtighed
Slow
Events
Depression
Turbokapitalisme
Undervisning
Socio-økonomi
Lokalt
City slow
Værdiskabelse
Barndom
INNOVATION
Foredrag
Carl honoré
Positiv vækst
Open events
Socio-economy
Development
Stress
Udvikling
Slow revolution
Start-ups
Fremdrift
Childhood
Workshops
Socio-economic
Because the world needs it!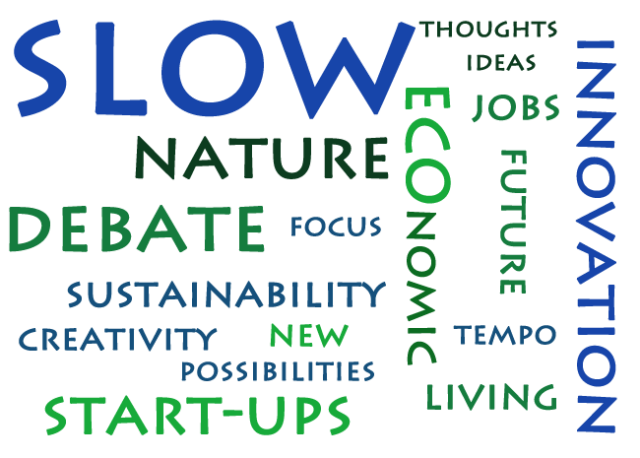 Do you feel it?
Do you feel the fast-forward tendencies, the turbo-capitalism and the extreme competiveness? The high demands & the pressure that leads to at least 380 million worldwide suffering from stress or depression - locally, nationally and globally??
We definitely feel it and we believe that what the world needs is a true SLOW change.
The SLOW change!
We have taken the first steps … Walk with us, if you also …
· Want to initiate healthier and more balanced work methods as well as slow balanced thoughts from top to bottom.
· Want passion for work instead of passion for economic competition, which especially counts as a reason for stress in individuals, businesses and society itself.
· Want focus on sustainable quality from bottom to top – all the way through
· Trust that we have possibilities and knowledge with which we can create a world where almost 9 billion people can live without stress. And that we can create a global society with a healthy economy, stability, clean air and water.
· Believe that this can happen if we think big, think sustainability and dare to take on different decisions and invent long term slow developments in private, public and work spheres.
· Want to help us establish the foundation for noticeable changes in society – locally, nationally and globally by supporting our innovative house. A house where we take good sustainable ideas and turn them into reality via socio-ECOnomic projects, start-ups and events.
· Walk with us if you want to help us set up new job possibilities.
· Want to support an innovative house that literarily wants to "put the child back in childhood".
As an entrepreneur, with a bachelor of education as well as a master of arts in Pedagogical Philosophy, I got the idea about 3 months ago, that what we (in Denmark and rest of the world) needs is Philoso?hies! A philosophical innovative house of philosophers, consultants and entrepreneurs with an academic background and a heart rooted in slow philosophy, a lot of socio-ECOnomic ground-breaking ideas, nature and passion for slow behavior in everything from work, to food to parenting.
I contacted my mentor and colleague, the world known and award winning author and speaker, Carl Honoré, whom the past 10 years has worked with The Slow Movement on all levels and asked him to co-operate with as well as join Philoso?hies. "I'm all in. Go for it!" were his answer.
From that day on Philoso?hies has been in a progress of expansion – My mailbox and phone has been glowing with interest from different kind of remarkable people. All very knowledgeable and skilled in what they are doing.
Those, whose principles goes with ours, have Carl and I invited to become pioneers of Philoso?hies – this means that we now have a great and strong team of philosophers and entrepreneurs who wants to lead the way to all kind of alternative ventures to today's traditional fast and stressed methods in work and everyday life.
To really make Philoso?hies a strong organization, so that our projects will make an impact and a slow difference we need your help and this is why we have created this crowdfunding project.
Welcome on board as a slow kick starter!
Read more at https://www.indiegogo.com/projects/the-slow-revolution--2 or at http://www.philosophies.dk (we are working on the translation into english)
Emner
---
Oplevelser
Bæredygtighed
Slow
Events
Depression
Turbokapitalisme
Undervisning
Socio-økonomi
Lokalt
City slow
Værdiskabelse
Barndom
INNOVATION
Foredrag
Carl honoré
Positiv vækst
Open events
Socio-economy
Development
Stress
Udvikling
Slow revolution
Start-ups
Fremdrift
Childhood
Workshops
Socio-economic