Pressemeddelelse
april 26, 2016
Development
Mba
Leadership
Strategy
Corporate
Education
Learning
Life
Business
There is a vast need for further development of the global workforce as we live in such a competitive environment. This does not only apply for people in operations but also for business professionals. Ambition, vision and quality is increasingly important values for private supplementary educational institutions. Probana have educated more than 36,000 business professionals. This demand verifies the need for a type of education that public institutions do not meet.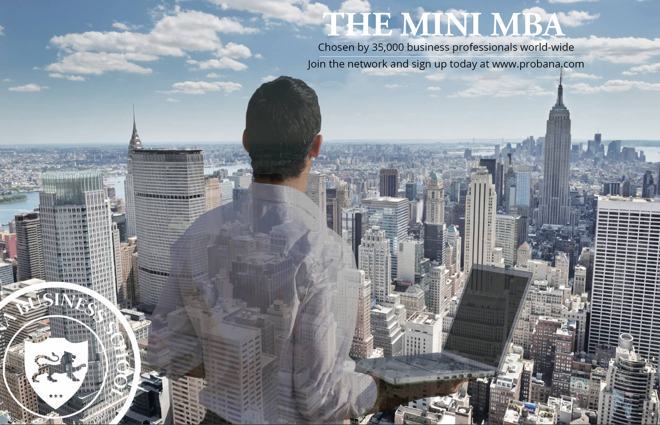 As a private institution, Probana offer an education that is rooted in the needs of corporate life rather than the traditional academic environment. We have optimised the education with regards to the curriculum, pricing, and time consumption, as well as discarded the idea of 'theory just for the sake of including it'. In addition, we have removed the many hours of classroom teaching simply because it does not match our course participants' needs. Instead, we offer e-learning, concise academic texts and a price policy through which an organisation's bottom line is solely effected positively by educating its employees.
A Modern Approach
Our approach is a contrast to the classic academic education form where the ideal is based on the Age of Enlightenment, and that takes up more space than it actually creates value. This is what Probana choose to combat. As opposed to many other educations, we focus on what corporate life and participants demand and need – not from what an academic tradition imposes on us.
Today, several national legislations state that only public education providers can be accredited. We cooperate continuously with foreign government accreditation bodies to solve this problem. As of right now, legislation gives the competitive advantage to public education providers instead of giving it to those who focus on what creates quality and value for the corporate life and course participants.
By giving this competitive advantage to public institutions, it makes them enclose on themselves and stop developing further. This brings about challenges for change and lack of ambition. The vast demand for private educational institutions is a testament to just that. Public educational institutions educate excellent researchers and provide a solid foundation for the education of business professionals. However, they do not focus directly on real-life business settings, and many established business professionals view it as a waste of time to participate in these young student environments.
Therefore, it is imperative that we reinvent the way supplementary education is perceived, and providers of private education need to play a pivotal part. As several areas of the traditional public business sector need competition to improve, so does the educational system.
Combination of Academic Reading and First-Hand Experience
Our education is planned by renowned professors and key business professionals who comprise an education that is contemporary. They account for the fact that leaders today must not only be strong and capable with strategy, but also in communication and psychology. This piece of insight is not acquired until you have experienced difficult management situations – not only from academic readings.
Each year, hundreds of business professionals sign up for our education. These are business professionals that know exactly what we offer, how we teach and the value they get for investing time and money. They share our perception of the importance of being ambitious and visionary when it comes to supplementary education.
Emner
---
Development
Mba
Leadership
Strategy
Corporate
Education
Learning
Life
Business