Pressemeddelelse
januar 11, 2019
Gogift
Egmont
Gift cards
Gavekort
Incentive
Rewards
FRANKFURT/COPENHAGEN, JANUARY 11th, 2019 – GoGift has just opened an office in Frankfurt, ready to roll out a number of new gifting products and better serve the German-speaking markets.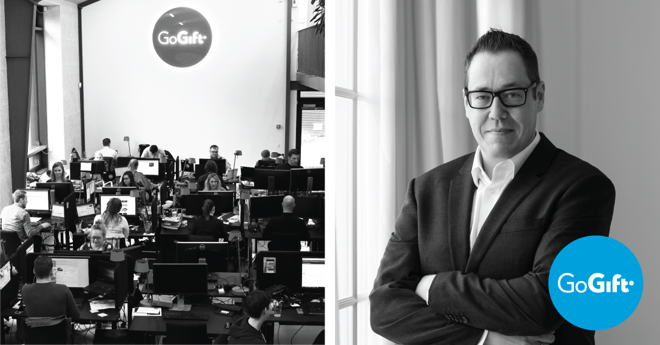 GoGift is a long running Nordic market leader in the gift card industry, providing innovative and global gifting solutions to B2B and B2C customers. GoGift is part of the global media group Egmont (active in 30 countries, revenues of 1.5bn EUR).
To take lead on the newly established operation out of Frankfurt, GoGift has hired Mike Hennig as Managing Director for the DACH region. Mike comes to GoGift with close to 20 years of international industry experience.
"We are excited to bring Mike Hennig on board GoGift. Mike has, with foresight and dedication, played a fundamental role in pioneering and shaping our relatively young gift card industry, well-respected by partners, clients and industry peers across the globe. Recently returned to Germany, Mike perfectly fits the bill of GoGift's ambitions for the DACH region", says Henrik Ravn, GoGift CEO.
"I am thrilled to work together with such an experienced team and establish the business in the DACH region. GoGift is the household name when it comes to gifting and incentive solutions in the Nordics, and I am happy to now bring GoGift's success story to my home country. I think the timing is perfect as the gift card and incentive market is growing, and there is a need in the market for innovative gifting solutions, offering more than just a digital code in an e-mail", says Mike Hennig, Managing Director at GoGift DACH.
If you would like to find out more, please contact one of the relevant persons below.

Press Contact
Henrik Ravn, CEO GoGift - [email protected]
Mike Hennig, Managing Director GoGift DACH - [email protected]

About GoGift
GoGift is an innovative gift card and gifting company with a global reach. GoGift is owned by Egmont – a leading media group with activities in 30 countries.
Emner
---
Gogift
Egmont
Gift cards
Gavekort
Incentive
Rewards