Pressemeddelelse
november 13, 2018
BIM
BIM Equity
OpenBIM
GRAPSHISOFT
Nemetschek Group
From 1st of January 2019 Halvor Sandbu, CEO GRAPHISOFT Norway, joins BIM Equity's Board of Directors. Halvor Sandbu will primarily provide BIM Equity with comprehensive knowlegde regarding the distribution of one of the strongest BIM tools on the market.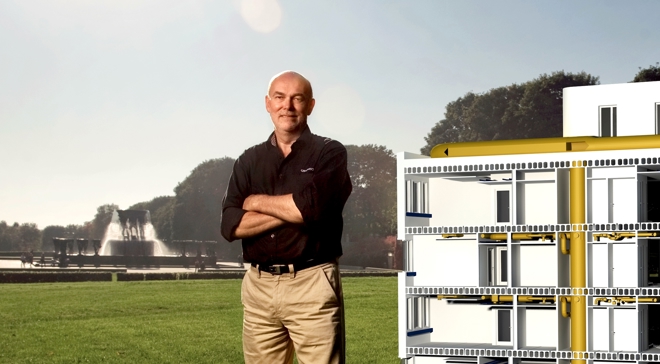 The Nordic markets are among the world's most digitally developed. This also applies to the construction industry which rapidly is embracing digital tools. With BIM being the cornerstone of the AEC's digitization BIM Equity, one of Denmark's leading BIM advisors, now strengthens their Board of Directors with Halvor Sandbu, CEO of GRAPHISOFT Norway.
As CEO of GRAPHISOFT Norway Halvor Sandbu has established a solid organization that distributes leading BIM products in the Norwegian market - mainly ARCHICAD, Solibri Model Checker and Cinema 4D all part of The Nemetschek Group. Today GRAPHISOFT Norge is one of Norway's largest distributors in the market for BIM software. Norway being a pioneer country regarding the embracement of open standards for AEC, GRAPHISOFT Norway are actively promoting IFC as the industry standard for collaboration, data exchange and data management.
Solid AEC insight
There are many similarities between the AEC industries in Norway and Denmark especially within the prevalence of OpenBIM and IFC. Therefore Jonas Salih, CEO of BIM Equity, has high expectations for the latest addition to BIM Equity's Board of Directors.
"Halvor Sandbu will strengthen BIM Equity's management with solid experience from the Norwegian market as well as in-depth knowledge of the needs of the AEC-industry. By strengthening our board, we expect to gain a larger market share for Nemetschek Group's products in the Danish market." Jonas Salih says and continues "As a distributor of GRAPHISOFT ARCHICAD in Denmark we also see our position strengthened by the Nemetschek Group and their recent acquisition of the best-in-class IFC based quality assurance tool, Solibri Model Checker"
OpenBIM and IFC: The future of AEC
Halvor Sandbu, CEO of GRAPHISOFT Norway, looks forward to transfer his experiences from the Norwegian market to the Danish. "A big part of our success in Norway is due to the fact that we've been able to provide a variety of tools that enables cooperation and quality management between project owners, consultants and contractors,"says Halvor Sandbu. "With the increasing need for collaboration between project stakeholders it has become evident that the IFC format is unrivaled the best way to exchange project data, conduct quality assurance and manage issues. BIM Equity will continuously promote IFC and OpenBIM as the most value creating approach for all parties through all phases in construction."
FACT BOX
Briefly about GRAPHISOFT Norway
GRAPHISOFT Norway is the Norwegian distributor of ARCHICAD, ArchiFrame, ArchiFM, ArchiTerra, Artlantis, BIMcontact, BIMx, Cinema 4D, Flexijet and Solibri Model Checker. GRAPHISOFT Norway also offers a range of advisory services such as software training, project assistance and a number of other support services. Architects beeing the largest customer segment with a market share of approx. 60%, GRAPHISOFT Norway also holds a strong presence in the segment with contractors and house manufacturers. They have repeatedly won awards as "Graphisoft Distributor of the Year" and the Norwegian "Gazelle Business" award.
Briefly about BIM Equity
BIM Equity is an all-round BIM company, offering BIM consulting, BIM services, and is a distributor of BIM technology. BIM Equity are dedicated to make BIM a good business for the Danish AEC industry by ensuring that the implementation of BIM is carried out professionally and is value-creating. Besides the distribution of selling software such as ARCHICAD and Solibri Model Checker, BIM Equity's expertise consists of advisory, analysis, implementation and training. Our AEC clients range from project owners, consultants, contractors, and facilities managers. To promote OpenBIM, BIM Equity also organise Nordic BIM Academy – a conference focusing on the use of open standards in the AEC industry.
PHOTO: Halvor Sandbu joins BIM Equity's Board of Directors
Emner
---
BIM
BIM Equity
OpenBIM
GRAPSHISOFT
Nemetschek Group