Pressemeddelelse
oktober 19, 2022
Vilhelmsborg
World Cup
3 of the gold-medal winning Danish team from the ECCO FEI World Championships Herning (DEN) will participate in the FEI Dressage World CupTM opener at Vilhelmsborg (DEN)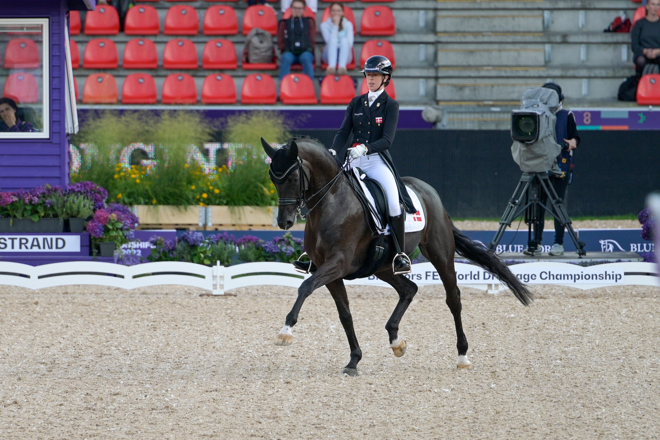 Carina Cassøe Krüth and Heiline's Danciera have entered the opening leg of the FEI Dressage World Cup™ at Vilhelmsborg, Aarhus (DEN). Together with Nanna Merrald Rasmussen, and Daniel Bachmann Andersen the history-making Danish team that won gold at the ECCO FEI World Championships 2022 in Herning will compete for important points in the opening leg of the FEI Dressage World Cup™ series as the 2022/2033 Western European League get underway at Vilhelmsborg.
"We have chosen to move the World Cup qualification to Vilhelmsborg for several reasons," Casper Cassøe Krüth and Jens Trabjerg explains: "We just had the ECCO FEI World Championships in Herning in August, and it was a huge event. Therefore, we have made some considerations as to what can realistically be done in terms of attracting sponsors, exhibitors, and audiences to the World Cup qualifier in October. At Vilhelmsborg, the costs of hosting the event are minimal, as the National Equestrian Center is well prepared for big events and we are sure we can make a super World Cup event with a fantastic atmosphere."
Cathrine Laudrup-Dufour had to withdraw Bohemian at the last minute, but she will be competing in the small tour with her young prospect the 7-year-old Vividus QRE.
Cathrine explains: "In the final stage of preparation I found I couldn't present Bohemian in the form he deserves. As I am not going to compete for a spot in the World Cup final, I decided to withdraw him. I am very much looking forward to riding my young horse at Vilhelmsborg."
The 3 Danish gold medal team athletes are ready to entertain and fascinate the audience and judges at the FEI Dressage World Cup ™ at Vilhelmsborg. Carina Cassøe Krüth, raked 5. at the FEI Dressage World Rankings will participate with her gold-medal-winning mare Heiline's Danciera, whilst Nanna Merrald Rasmussen will make a World Cup debut with her stunning breeding stallion Blue Hors St. Schufro, and Daniel Bachmann Andersen will partner with the winner of the CDI4* Grand Prix Special at Falsterbo Horse Show this summer, Zippo M.I.
Also, keep an eye out for the Danish rider Andreas Helgstrandon the impressive 8-year-old stallion Jovian who won the 7-year-old title at the World Breeding Championships last year before posting a double of CDI3* wins in Aalborg (DEN) in May (Grand Prix and Grand Prix Special), and another double at CDI3* Hagen (GER) in June.
Carina Cassøe Krüth finished the FEI Dressage World CupTM final in Leipzig in 4. place:
"I am really looking forward to being back at Vilhelmsborg. The cozy, intimate atmosphere, with the spectators very close to the dressage arena, is very special, and I am looking forward to riding for my home crowd again. It's going to be a tough and super fun competition, and I can't wait."
Carina Cassøe Krüth is working on a brand-new freestyle, and if all goes according to plan, she will ride the freestyle for the first time come Sunday in front of her home crowd.
The Danes will undoubtedly meet tough competition with the likes of the German riders Helen Langehanenberg/Annabelle and Dorothee Schneider/Faustus. Athletes from 8 nations: Belgium, Denmark, Finland, Germany, Morocco, Netherlands, Norway, and Sweden will compete in the Short Grand Prix on Saturday 22 October which starts at 19.00 local time and the top 15 ranked riders will qualify for the deciding freestyle on Sunday which will kick off at 13.30.
See the entire program for the World Cup event at Vilhelmsborg HERE.
Stay up to date with results, articles, interviews, videos, and much more while following the action all the way to the Final.
Emner
---
Vilhelmsborg
World Cup