Pressemeddelelse
oktober 23, 2022
World Cup
Vilhelmborg
The Danish riders proved yet again they are a force to reckon with in international dressage – led by Carina Cassøe Krüth two of her teammates, Nanna Merrald Rasmussen, and Daniel Bachmann Andersen from ECCO FEI World Championship Herning 2022 came in second and third followed by her trainer Andreas Helgstrand.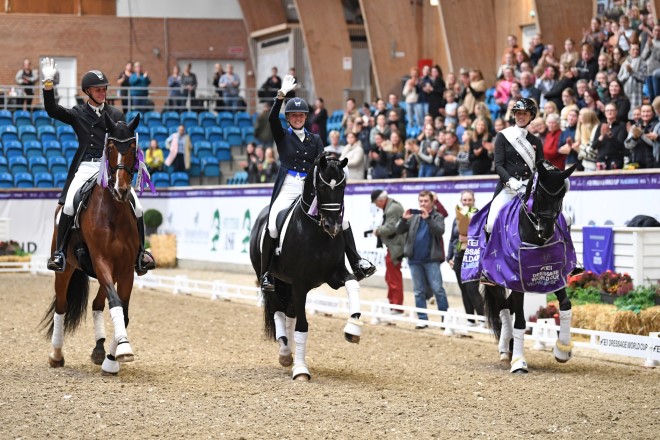 With a brilliant performance and a score of 85,925% Carina Cassøe Krüth and her lovely black mare Heiline's Danciera by Fürstenball took the win at the FEI Dressage World Cup™ 2022/2023 Western European League in Vilhelmsborg (DEN) today.
With a brand-new freestyle, she earned high marks for the degree of difficulty and choreography – Carina has partnered with Danciera since the mare was 4-years-old, and they were a part of the gold-medal-winning team at the World Championships in Herning this summer.
In the line-up for the prizegiving, Carina Cassøe Krüth was accompanied by two of her teammates from Herning; Nanna Merrald Rasmussen and Daniel Bachmann Andersen – both on horses doing their World Cup debut at Vilhelmsborg.
Nanna Merrald Rasmussen debuted the 11-year-old breeding stallion Blue Hors St. Schufro by St. Moritz Junior. She enjoyed riding the black stallion and predict there is a lot more potential to be unfolded when he gets more experience at this level. They scored a whopping 82,610% in their world cup premier.
The same goes for Daniel Bachmann Andersen and Zippo M.I by Blue Hors Zack, the 10-year-old gelding was presented in Grand Prix for the first time this March, and Daniel is doing brilliant work with the sensitive horse. Daniel rode the World Championship freestyle from Marshall-Bell, but as Daniel said: it suits Zippo M.I. even better. The score 81,330% placed Daniel on third place.
Andreas Helgstrand (DEN) with the impressive breeding stallion Jovian by Apache, was performing to a medley of music by Ed Sheeran, the 8-year-old stallion impressed the home crowd and they let out a sigh of compassion when Andreas and Jovian did a mistake in the one-tempi. With loads of potential and marks of 9,5 for the extended trot, they earned 80.0% going into 4th place.
The Organisers moved the Danish World Cup qualifier from Herning to Vilhelmsborg and Jens Trabjerg, CEO Sport says: "I am thrilled with the level of the sport shown at Vilhelmsborg at this World Cup qualifier. The Danish riders came out in force on home ground, and though it's not very hospitable, it's fantastic to give our spectators such an amazing sport."
Casper Cassøe, CEO of Operations was pleased to have the World Cup qualifier back at Vilhelmsborg, where the qualifier was set in 2020 during the pandemic: "Once again Vilhelmsborg has proven capable of hosting a major sport event, our established facilities with good infrastructure and the proximity to the second largest city in Denmark (Aarhus) works well for both horses, riders, and spectators. "
About FEI Dressage World Cup
Four leagues make this series truly global and provide athletes from all around the world with an opportunity to qualify for the Final which will be taking place in Omaha in April 2023.
The competition at Vilhelmsborg is one of 11 in Western Europe League to fill one of nine spots reserved for the region in the Final lineup of 18 combinations. One spot also goes to the defending champion, Jessica von Bredow-Werndl on TSF Dalera BB.
As one of the most prestigious series on the international Dressage calendar, it is with great anticipation that riders, spectators, and the FEI watch this season's qualifiers unfold and reveal for whom the doors to the Final in Omaha come April will open.
Photos free of charge: Photo: Ridehesten.com/Kristine Ulsø Olsen
FEI Dressage World Cup Grand Prix Freestyle presented by ECCO (equipe.com)
Emner
---
World Cup
Vilhelmborg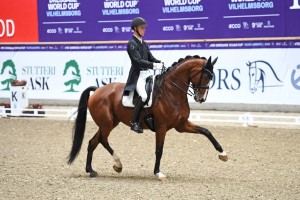 Daniel Bachmann Andersen/Zippo M.I. Photo: Ridehesten.com/Kristine Ulsø Olsen
Hent | 5,87 MB | 2990 x 4485 | .JPG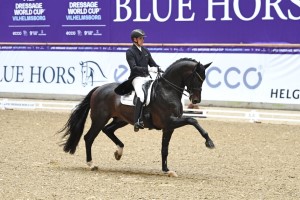 Andreas Helgstrand / Jovian. Photo: Ridehesten.com/Kristine Ulsø Olsen
Hent | 5,89 MB | 2965 x 4448 | .JPG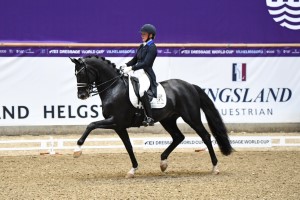 Nanna Merrald /Blue Hors St. Schufro. Photo: Ridehesten.com/Kristine Ulsø Olsen
Hent | 5,26 MB | 2835 x 4253 | .JPG
Carina Cassøe Krüth and Heiline's Danciera. Photo: Ridehesten.com/Kristine Ulsø Olsen
Hent | 7,19 MB | 3241 x 4862 | .JPG
Carina Cassøe Krüth/Heiline's Danciera, Nanna Merrald Rasmussen/Blue Hors St. Schufro and Daniel Bachmann Andersen/Zippo M.I. Photo: Ridehesten.com/Kristine Ulsø Olsen
Hent | 7,7 MB | 3276 x 4914 | .JPG
Zip og hent alle filer