Pressemeddelelse
marts 31, 2022
World Cup
Vilhelmsborg
Dressage
This year is the 16th time Denmark hosts the FEI Dressage World CupTM qualifier in October. Again, this year in week 42 from the 17 - 23 October. The event will be held just 2 months after the ECCO FEI World Championships Herning Denmark 2022, and the Organisers have, for several reasons, chosen to move the World Cup event to the National Equestrian Center Vilhelmsborg, Aarhus, in a smaller but well-functioning setting.
The Danish qualification of the FEI Dressage World CupTM series will be moved from Jyske Bank Boxen in Herning to Vilhelmsborg, Aarhus in 2022. The reason is an uncertainty in relation to how many spectators will attend the event after having experienced the impressive ECCO FEI World Championships in Herning just 2 months previously.
- We have some considerations in relation to attracting sponsors and a large audience to Herning shortly after the World Championships, and as we are unsure whether it is possible to fill the impressive Jyske Bank Boxen for the World Cup qualification, we have chosen to make a different plan, Casper Cassøe explains, together with Jens Trabjerg they are the Organisers behind the World Cup event in Denmark.
- In a good collaboration with the FEI and Municipality of Aarhus, we have succeeded in moving the event to Vilhelmsborg. During the corona pandemic, the FEI Dressage World CupTM qualification in 2020 was moved from Herning to Vilhelmsborg, and the riders were happy with the facilities on site.
Vilhelmsborg has a spectator capacity of approx. 2000 and at the same time, there will also be room for a smaller fair inside the arena.
International dressage and jumping
The premier competition during the event at Vilhelmsborg will naturally be the FEI Dressage World CupTM with Grand Prix qualification on Saturday and the freestyle final on Sunday. In parallel with this, 3-star Dressage will be held in both large and small tour. These competitions are supplemented with international classes for junior and young riders as well as U25. The Dressage competitions will take place from Friday 21 to Sunday 23 October.
International 2* Jumping classes open a week of Dressage and Jumping competitions at Vilhelmsborg, with the first competition taking place on Monday 17 October. The CSI2 * Jumping classes will be combined with international pony Jumping until and including Thursday 20 October. During the same period, some of Europe's best pony riders meet in the FEI Pony Trophy.
The Organisers have composed an exciting and versatile program stretching over a week of competitions at Vilhelmsborg. Ticket sales open on 15 May 2022.
Visit the web-site: www.worldcupherning.dk
Emner
---
World Cup
Vilhelmsborg
Dressage
Cathrine Dufour and Bohemian won the FEI Dressage World Cup ™ 2020 - at Vilhelmsborg. Photo © FEI / Ridehesten.com / Annette Boe Østergaard
Hent | 1,7 MB | 2731 x 4096 | .jpg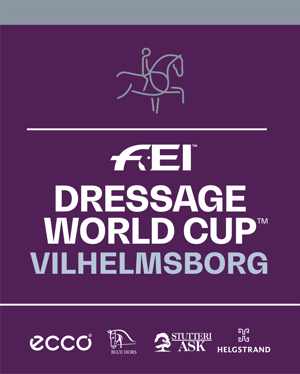 Hent | 0,18 MB | 3093 x 2481 | .png
Zip og hent alle filer