Pressemitteilung
November 5, 2009
Multimedia
Specialized Mobile Provider to stage a spectacular global event to highlight its innovative mobile phone service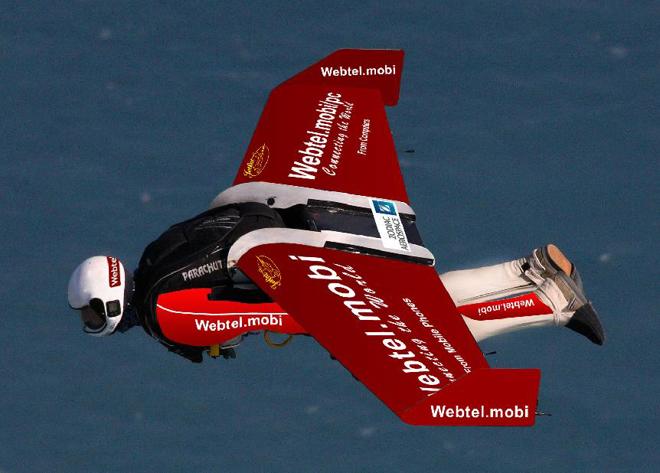 Specialized Mobile Provider Webtel.mobi is staging the world's first Intercontinental Crossing by man using a jet-powered wing. Called The Webtel.mobi Intercontinental Challenge, the event will see a crossing of the North Atlantic Ocean from Morocco in Africa to Spain in Europe by the Webtel.mobi Challenger, flying a Jet-powered wing.
The Challenger will be followed by an air fleet of helicopters and aircraft, which will film the event and provide free live television footage via satellite to any broadcasters worldwide. A free worldwide live internet broadcast (webcast) will also be screened on Webtel.mobi's Challenge website.
The special Challenge website which has been built contains detailed information on all aspects of the event, as well as details for journalists and media representatives who want to attend the event.
According to a Webtel.mobi spokesman, the aim of the event is to physically illustrate how Webtel.mobi's unique mobile phone service connects the world in a new and innovative manner, and how it has succeeded in becoming the mobile provider with the largest global footprint through the application of unconventional strategies.
Scheduled for November 25 2009 – with a Rehearsal on 24 November 2009 – the event is one of the largest and most unique to be held on the world stage for many years. The global webcast and broadcast also seem set to make it one of the most viewed events in recent time.
The Webtel.mobi Intercontinental Challenge website can be seen at
http://www.challenge.webtel.mobi
About Webtel.mobi:
Webtel.mobi is a Specialized Mobile Provider whose innovative service allows users to make local, international or roaming calls, or send text messages, from their mobile phones, anywhere in the world. It works off all mobile phones, on all networks, in all countries, and has the largest geographic coverage of any mobile provider. Its call and text rates are up to 80% less than competitors' standard costs. Information on the Webtel.mobi product is available at http://www.webtel.mobi/pc and the service is available from any mobile phone at http://www.webtel.mobi
Media Contact:
Themen
---
Multimedia