Pressemitteilung
April 3, 2017
Abwasser
M&A
Aegion
Insituform takes a big step in Scandinavia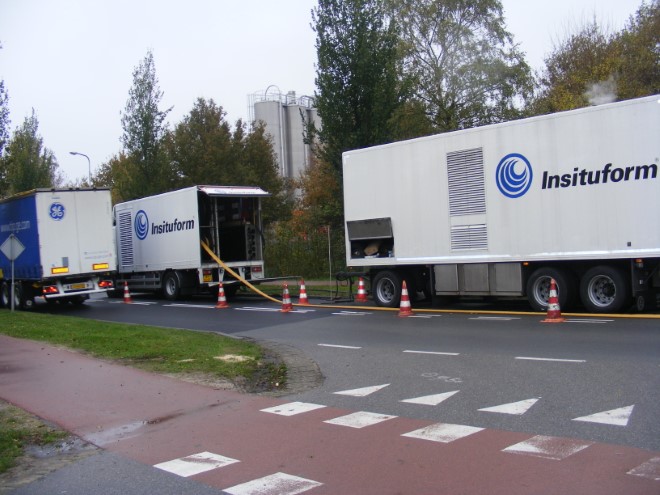 Aegion Corporation Acquires Berotech A/S
SAINT LOUIS, MO., March 27, 2017 - Aegion Corporation ("Aegion" or the "Company") (Nasdaq Global Select Market: AEGN) "Aegion Corporation today announced that it has acquired Berotech A/S from Munck Group" .
As part of Aegion Corporation, Insituform Technologies is a global leader in the production and installation of cured-in-place-pipe (CIPP) systems, a trenchless cost-effective alternative for the renovation of sewer systems and pressure pipe systems for water and industrial use.
Since 2001, Berotech has grown to become one of the key installation companies for CIPP systems in Denmark. Insituform is also one of the major CIPP players in Denmark and the two companies will now join forces. Frank Firsching, President of Aegion's Infrastructure Solutions platform, said, "We consider the acquisition of Berotech as a well-fitting expansion of the current operations in Scandinavia. Berotech brings in a great team of CIPP installation experts, a broader scope of services to their customers and its location in Haderslev allows us to cover an additional geographic area of Denmark."
Maarten Kool, Aegion's Managing Director for Europe, said, "Berotech's market position in Sweden, combined with Insituform's existing base near Copenhagen, will allow us to integrate the production of CIPP systems and pool world-wide resources in R&D. We are excited about our increased ability to provide our solutions to customers in this area. In addition, Munck and Insituform each have an attractive portfolio of installation and construction capabilities and intend to strengthen their cooperation in the Danish market. We anticipate this will result in further improved service for our customers."
Berotech was previously part of Munck Group, a Denmark-based leading general contractor active in a broad portfolio of engineering and construction activities, since 2016. Mr. Kool continued, "Munck's decision to sell Berotech to Aegion was based on its belief that Berotech will be able to grow faster as part of Aegion Corporation and Insituform, a global leader in CIPP."
About Aegion (NASDAQ: AEGN)

Aegion combines innovative technologies with market-leading expertise to maintain, rehabilitate and strengthen infrastructure around the world. Since 1971, the Company has played a pioneering role in finding transformational solutions to rehabilitate aging infrastructure, primarily pipelines in the wastewater, water, energy, mining and refining industries. Aegion also maintains the efficient operation of refineries and other industrial facilities and provides innovative solutions for the strengthening of buildings, bridges and other structures. Aegion is committed to Stronger. Safer. Infrastructure.®
Forward-Looking Statements
The Private Securities Litigation Reform Act of 1995 provides a "safe harbor" for forward-looking statements. The Company makes forward-looking statements in this news release that represent the Company's beliefs or expectations about future events or financial performance. These forward-looking statements are based on information currently available to the Company and on management's beliefs, assumptions, estimates or projections and are not guarantees of future events or results. When used in this document, the words "anticipate," "estimate," "believe," "plan," "intend," "may," "will" and similar expressions are intended to identify forward-looking statements, but are not the exclusive means of identifying such statements. Such statements are subject to known and unknown risks, uncertainties and assumptions, including those referred to in the "Risk Factors" section of the Company's Annual Report on Form 10-K for the year ended December 31, 2016, as filed with the Securities and Exchange Commission on March 1, 2017, and in the Company's subsequent quarterly reports on Form 10-Q. In light of these risks, uncertainties and assumptions, the forward-looking events may not occur. In addition, the Company's actual results may vary materially from those anticipated, estimated, suggested or projected. Except as required by law, the Company does not assume a duty to update forward-looking statements, whether as a result of new information, future events or otherwise. Investors should, however, review additional disclosures made by the Company from time to time in its filings with the Securities and Exchange Commission. Please use caution and do not place reliance on forward-looking statements. All forward looking-statements made by the Company in this news release are qualified by these cautionary statements.

Aegion® and Insituform® are the registered trademarks of Aegion Corporation and its affiliates.
(AEGN-GEN)
For more information, contact:

Lars Møller - +45 2012 6004 / [email protected]
Themen
---
Abwasser
M&A
Aegion