Press release
November 14, 2018
With International Men's Day in November, Workscore has analysed data from their unique, rolling online survey to understand the impact of work on the wellbeing of men. More than 3,000 male participants generated over 180,000 data points to provide interesting insights into how men perform at work.
Press release
October 29, 2018
An overwhelming number of international students and backpackers in Australia are suffering wage theft in silence, a landmark study by UNSW Sydney and UTS has found.
Press release
October 10, 2018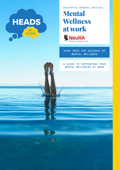 Neuroscience Research Australia (NeuRA) has launched a FREE eBook titled, Mental Wellness in the Workplace, on world mental health day.