Press release
January 9, 2019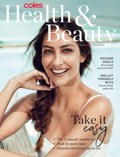 New quarterly publication to help customers improve their health and wellbeing
Press release
January 2, 2019
Today marks a new era for Australian aged care, with the independent Aged Care Quality and Safety Commission opening its doors, launching its one-stop quality and safety website and the single new contact number for aged care concerns and queries: 1800 951 822.
Press release
December 20, 2018
Recent media interest in the animal and human health risks associated with keeping backyard poultry has revealed the need for improved biosecurity education.
Press release
December 12, 2018
A new NPS MedicineWise article explains that although a recent study found 'intensive' education on low back pain does not improve outcomes, basic education remains a cornerstone for management of low back pain and is recommended in Australian and international guidelines.
Press release
December 7, 2018
In one of the first studies to do so, the important role GPs play in providing care for patients following heart attacks has been highlighted in a new report from the Australian Institute of Health and Welfare (AIHW). The report also demonstrates the value of bringing together different sources of data to tell a more complete story.
Press release
November 29, 2018
Better access to health data could save $3 billion and improve the health of all Australians.
Press release
November 29, 2018
Dementia Australia has formalised its relationship with Dementia Alliance International and today signed a new memorandum of understanding (MOU).
Press release
November 28, 2018
One of Australia's leading figures in naturopathic medicine, Marcus Blackmore AM, together with his wife, Caroline, has made a record $10 million personal donation to Southern Cross University.
Press release
November 27, 2018
A new television, social media and community campaign has been launched during Aboriginal and Torres Strait Islander HIV Awareness Week, to increase understanding of HIV and reduce new cases among First Nations people.
Press release
November 13, 2018
Monash University experts are available to discuss the following topics:
Press release
October 31, 2018

Many Halloween characters have horrible teeth but in reality, having rotten teeth is not fun. While everyone should have fun this Halloween, the Australian Dental Association (ADA) is saying keep things in moderation when it comes to sugary treats.
Press release
October 15, 2018
Encouraging people to understand the importance of both men's and women's health before conception and how this affects the health of a child at birth and throughout its lifetime is the focus of Fertility Week 2018, which begins Monday, October 15.