Press release
February 4, 2013
Tourism
Come ride the waves, hang ten, and chill out in Bali. iBooknow.com invites all surf and beach enthusiasts to take advantage of their discount reservations and room rates with instant booking confirmation and no hidden fees for the Indonesian surfing paradise of Bali.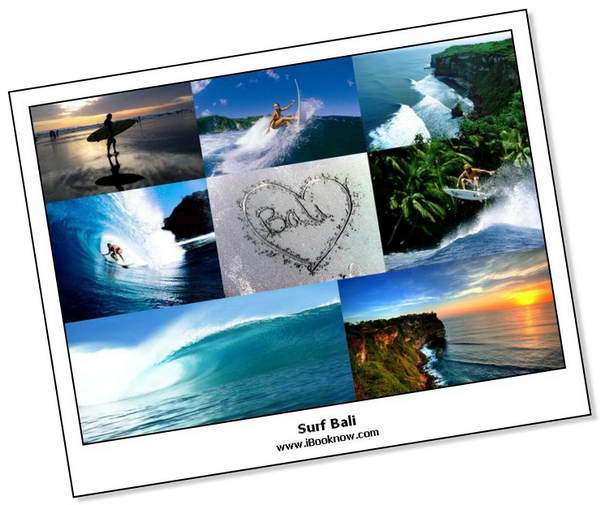 If you are a surfer or beach fanatic looking for Bali hotel discount reservation rates iBooknow.com has some of the best on the Internet. We not only have some fantastic booking deals for Bali, but we are also proud of our no hidden charges, instant booking confirmation policy.
Bali, Indonesia's gateway to the world has been popular with Australian surfers since the late 1960's because of its fantastic year-round climate, endless days of surfing, and close proximity to Australia. The Indian Ocean creates a particular type of wave that has given Bali its prominence as one of the finest places for surfing holidays anywhere.
The most optimum time to visit Bali is between May and October when the climate is at its finest. The dry months between June and September are favored for their fantastic surf conditions which draw travelers from all over the globe, so booking early is best if you wish to beat the sporting crowd to Bali.
Bali's surfing history goes back to the 1930's and its popularity began to soar in the '60s when surfing became more popular around the world. There are many beaches and islands to surf in Indonesia but no surfing holiday is complete without a stopover at Bali's Padang Padang & Uluwatu beaches.
Although there are over twenty premium beaches to surf on Bali these two have become famous for their consistency and world class barreling reef-breaks. The southwest and southeast coasts of Bali, and most especially the Bukit Peninsula where Uluwatu with its towering cliffs overlook the ocean, are easily accessible. Uluwatu has waves that can break with the biggest swells at twenty feet or higher. For those who prefer tamer surf the villages of Kuta and Sanur is where you need to go. The surf in Bali is generally not as massive as can be found in other surf destinations, but with a consistent average of two to six foot waves around the island it's a surf destination that you can count on.
Bali's Most Popular Beaches For Consistently Good Surf:
Balangan
Bingin
Canggu Beach
Dreamland
Impossibles
Keremas
Kuta Beach
Medewi Beach
Nusa Dua
Padang Padang
Serangan Beach
Uluwatu
About iBooknow.com
iBooknow.comwas established in 2008 as a one-stop destination for people wishing to book holidays and business trips around the globe. iBooknow.com offers a wide range of services to our customers, including discounted hotel bookings, car hire and exclusive promotional pricing not found anywhere else through our industry network and partnerships.

From the start, iBooknow.com has always been more than just a travel site. The staff at iBooknow.com care deeply about the reputation of the company, and they will always go the extra mile to ensure that you have a great stay as you travel around the world.

Unlike other travel sites, the prices that iBooknow.com offers include all fees and charges up front. With iBooknow.com, what you see is what you get. iBooknow.com will always make sure that you are getting the cheapest possible room rates, so there is no need to trawl through dozens of sites to find the best available deal.

iBooknow.com has continually grown and progressed to servicing a worldwide clientele who travels globally, but they still treat every customer as if they were a guest in their home. iBooknow.com's experience servicing traveler's needs and requests is philosophically local, but global in scope. Travel and Hospitality are their passions.
Subjects
---
Tourism