Press release
March 25, 2013
Tourism
iBooknow.com invites all travelers to take advantage of their last minute discount reservations and room rates with instant booking confirmation and no hidden fees for the Songkran Water Festival April 13 to 15, 2013 in Bangkok, Thailand. It's not too late to plan a visit to Bangkok for Songkran 2013. Get wet with iBooknow.com and party Bangkok style.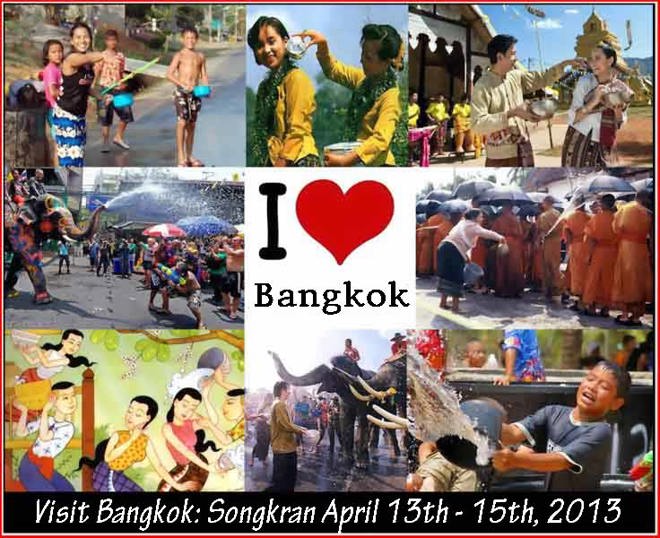 If you are looking for last minute Bangkok hotel discount reservation rates for the Songkran 2013 celebrations that will take place between April 13 and 15 iBooknow.com has rooms available all over the city and close to the different festivities. Besides our last minute booking deals for Bangkok, we offer our no hidden charges, instant booking confirmation policy with all reservations.
Bangkok the City of Angels and Thailand's premier tourist hub, is the gateway to Southeast Asia one world's most desired vacation areas. Bangkok, where a traveler's every whim is catered to, and every exotic fantasy can be realized. There is no better time to visit than during the annual national celebrations for Songkran, just be prepared to get wet!
Thailand's New Year's festival, Songkran, used to be calculated based on the solar calendar, which varied from one year to the next but now Songkran in Bangkok is held annually between the 13th and 15th of April. Depending on where you are in the country, the dates and period of festivities may vary but in Bangkok this year it will again be April 13 to 15 as it has been in the past.
Thailand is a place of many contradictions and Songkran is not an exception. Traditionally, in the past, Thais would politely pour a bowl of water on members of the family, their close friends and neighbors. As Songkran has taken a more festive note, a bowl becomes a bucket, a garden hose and now water guns. The spirit of holiday merriment is shared amongst all city residents and tourists alike. Songkran is essentially a family and community event and it is a time of the year when most Thais will travel home to be with loved ones, and about 50% of the locals in Bangkok take this time to go home for family reunions. This means that the notorious Bangkok traffic is virtually non-existent with a few exceptions for areas that have been set aside for public festivities. Many shops will be closed, but the major department stores and services remain in operation.
It is very difficult to avoid getting wet during Songkran and no matter where you find yourself in Bangkok chances are you will get drenched. But if your idea of summer fun is getting soaked from head to toe come and enjoy the wild party scene at Kao San Road or on Silom which is where the festivities will culminate on the evening of the 15th. No need to pack a water gun as vendors will be selling them on every street corner.
For a more sedate Songkran, find your way over to the Sanam Luang district. Here traditional celebrations are held across from the Grand Palace. There you can witness the tradition of the first day of the festivities as the Buddha image 'Buddhasihing' is brought out from the National Museum and paraded along the avenue for people to sprinkle water on. Anther merit-making tradition to observe in Bangkok is the building of sand stupas around significant temples in the Rattanokosin area.
Songkran Etiquette:
Do's
• Do give alms and make merit
• Do protect your money, camera, phone, watch and other valuables from water with plastic bags
• Do use public transportation (BTS_MRT) if you are heading to one of the Songkran "water zones", as traffic will be heavy around these areas
• Do try wishing the locals a happy new year in Thai by saying: "Sawasdee Pee Mai!"
• Do smile and have fun, and remember, it's all in fun.
Don'ts
• Do not throw water at monks, babies or the elderly
• Do not drink and drive, and be wary of taxi drivers too
• Do not throw water at cars or motorcycles to prevent road accidents
Songkran is one of the busiest times of the year in Thailand and Bangkok is no exception. Booking your transportation and hotel accommodations in advance is highly recommended and iBooknow.com can help you plan your stay. Log on now and take advantage of our last minute discount reservations and room rates with instant booking confirmation and no hidden fees. Come to Bangkok, Thailand and experience this world renowned party first hand.
About iBooknow.com
iBooknow.comwas established in 2008 as a one-stop destination for people wishing to book holidays and business trips around the globe. iBooknow.com offers a wide range of services to our customers, including discounted hotel bookings, car hire and exclusive promotional pricing not found anywhere else through our industry network and partnerships.

From the start, iBooknow.com has always been more than just a travel site. The staff at iBooknow.com care deeply about the reputation of the company, and they will always go the extra mile to ensure that you have a great stay as you travel around the world.

Unlike other travel sites, the prices that iBooknow.com offers include all fees and charges up front. With iBooknow.com, what you see is what you get. iBooknow.com will always make sure that you are getting the cheapest possible room rates, so there is no need to trawl through dozens of sites to find the best available deal.

iBooknow.com has continually grown and progressed to servicing a worldwide clientele who travels globally, but they still treat every customer as if they were a guest in their home. iBooknow.com's experience servicing traveler's needs and requests is philosophically local, but global in scope. Travel and Hospitality are their passions.
Subjects
---
Tourism