Press release
March 25, 2013
Tourism
iBooknow.com invites all travelers to take advantage of their last minute discount reservations and room rates with instant booking confirmation and no hidden fees for the Songkran Water Festival April 13 to 15, 2013 in Phuket, Thailand. It's not too late to plan a visit to Phuket for Songkran 2013. Get wet with iBooknow.com and party Phuket style.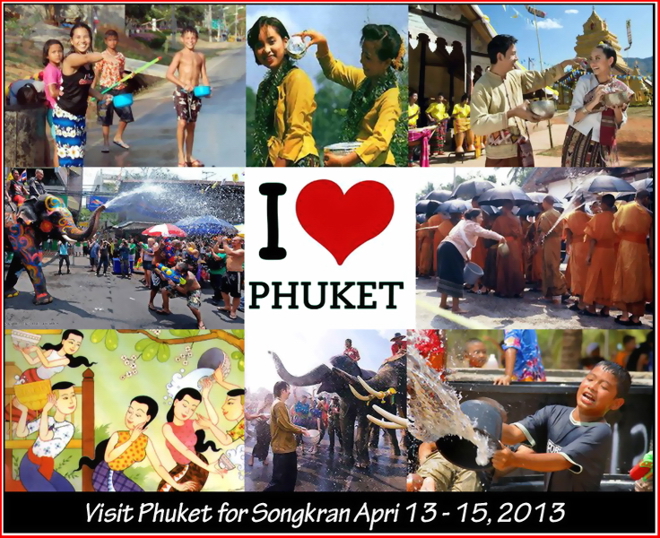 If you are looking for last minute Phuket hotel discount reservation rates for the Songkran 2013 celebrations that will take place between April 13 and 15 iBooknow.com has rooms available all over the island and close to the different festivities. Besides our last minute booking deals for Phuket, we offer our no hidden charges, instant booking confirmation policy with all reservations.
Phuket, Pearl of the Andaman, Thailand's premier tourist destination, the idyllic Jewel in the crown of Thailand's tourist getaways is one of the world's most desired vacation spots. A spot where a traveler's every whim is catered to, and every exotic island fantasy can be realized. There is no better a time to visit than during the annual national celebrations for Songkran, just be prepared to get wet!
In the Thai language the term Songkran translates to "the sun is passing through a new configuration of stars" and this in turn signifies a change of season. Songkran is essentially family and community event and it is a time of the year when most Thais will travel home to be with loved ones. Lots of traditional foods will be on hand, ancestors and elders will be recognized and respected with ceremony, and those seeking merit and good luck will make donations to the local temples and monks before joining in the water throwing activities that inevitably characterize this Thai New Year Holiday.
Songkran kicks off the Buddhist New Year and also signifies the end of the dry season. Traditionally Songkran was a much more solemn occasion than it is now with the ritual washing of Buddha images and bathing, making merit at local temples but over the years the rather sedate water ceremonies have become a family and friends rowdy free-for-all of throwing water, partying during the daytime, and street fairs, concerts, dancing, and drinking during the evenings.
In the provincial capital Phuket Towne much of the annual festivities and events take place in the Saphan Hin Park area, but the beachside resorts of Patong, Rawai, Kata and Karon on the southwest tip of the island, and the Kamala, Laguna and Surin Beach areas of the northwestern part of the island each have their own events and the partying takes on varying degrees of intensity.
During the Songkran holiday period all the rest of what Phuket has to offer is still open and available. The beaches are still there for a lazy day of sunbathing, the golf courses are some of the best and most beautiful in the world, the shopping is endless, and there is Thai food of every description everywhere you turn. Families are encouraged to take in a show at the famous Fantasea or Simon Cabaret, and for some a couple of hours of raucous Thai boxing, and then a refreshing beer or cocktails in one of Patong's many bars, clubs or discos is what makes for a perfect holiday.
Songkran is one of the busiest times of the year in Thailand and Phuket is no exception. Booking your transportation and hotel accommodations in advance is highly recommended and iBooknow.com can help you plan your stay. Log on now and take advantage of our discount reservations and room rates with instant booking confirmation and no hidden fees. Come to Thailand and experience this world renowned party first hand.
About iBooknow.com
iBooknow.comwas established in 2008 as a one-stop destination for people wishing to book holidays and business trips around the globe. iBooknow.com offers a wide range of services to our customers, including discounted hotel bookings, car hire and exclusive promotional pricing not found anywhere else through our industry network and partnerships.

From the start, iBooknow.com has always been more than just a travel site. The staff at iBooknow.com care deeply about the reputation of the company, and they will always go the extra mile to ensure that you have a great stay as you travel around the world.

Unlike other travel sites, the prices that iBooknow.com offers include all fees and charges up front. With iBooknow.com, what you see is what you get. iBooknow.com will always make sure that you are getting the cheapest possible room rates, so there is no need to trawl through dozens of sites to find the best available deal.

iBooknow.com has continually grown and progressed to servicing a worldwide clientele who travels globally, but they still treat every customer as if they were a guest in their home. iBooknow.com's experience servicing traveler's needs and requests is philosophically local, but global in scope. Travel and Hospitality are their passions.
Subjects
---
Tourism