Press release
February 8, 2013
Tourism
iBooknow.com invites all travellers to take advantage of their discounted room rates and instant booking confirmation with no hidden fees for Seoul, Korea's Lotus Lantern Festival. Travel to Seoul and enjoy the history, culture, food and festivities.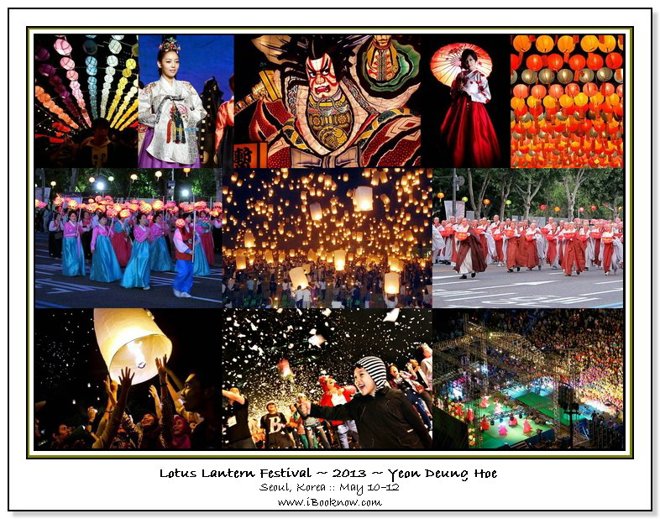 As the chilly winter winds reside, the sun shines, temperatures climb, and the trees begin to blossom, Seoul welcomes spring each year with its annual Lotus Lantern Festival, or Yeon Deung Hoe as the locals call it. As the flowers bloom in pleasant mild temperatures the residents of Seoul prepare their fastidiously fashioned and beautiful paper lanterns made of hanji, prepare food, and make merit and pay respects to the Lord Buddha in their very own unique way. Although this holiday is celebrated worldwide by Buddhists, the week-long festivities in Korea are one of the year's best times to visit and join in celebration.
http://www.ibooknow.com/Asia/South_Korea/Seoul
There are activities all week long but the main events will commence on Friday and run till Sunday. The annual lantern exhibition at Bongeunsa Temple is the kick-off event and the following day the opening ceremony, Eoulim Hanmadang, is when the song and dance begins.
Koreans and tourists from all over the world will flock to Seoul to join the festival. Rooms are always at a premium but iBooknow.com has hotel discount reservation rates and some of the best hotel booking deals for Seoul, and all with no hidden charges and secured with instant booking confirmation. Log-on to iBooknow.com and book your Lantern Festival holiday now.
The highlight of the festival is the nearly three hour Lotus Lantern Parade which begins at the Dongdaemun History and Culture Park and winds its way along Jongno Street to end at the Joygesa Temple. With well over 100,000 participants all dressed in their finest traditional hanbok, lanterns in hand, this sight is a magnificent spectacle unique to Korea. The favorite viewing area for the parade is in the vicinity of Jongno-sam-ga Station.
Although the parade in and of itself is a fantastic event, it has a serious side to it as well. For Buddhists the lantern signifies wishes for health, long life and richness. When taking part in the parade participants, by lighting a lantern, pledge to perform acts of merit and thus become a beacon of light in a world of darkness. Koreans have been holding this festival for over well over 1,000 years dating back to the Goryeo and Joseon dynasties.
The Hoehyang Hanmadang celebration, which is held following the parade, involves everyone's participation in a Korean style circle ganggangsullae dance where everyone joins hands while flower petals fill the air. Following the dance everyone will write down their wishes and resolutions for the upcoming year and then burn them while releasing thousands of floating lighted lanterns into the evening sky.
On Sunday, the last day of the festivities, is the Buddhist Street Festival. With over one hundred kiosks showcasing food, lanterns, Korean crafts, tea ceremonies, and meditation demonstrations the final day is the perfect way to end the weekend.
Held between Friday, the 10th of May and Sunday the 12th The Lotus Lantern Festival of 2013 is not to be missed. Here is a complete schedule of the events:
WHAT

WHEN

WHERE

Exhibition of Traditional Lanterns

May 10 ~ 17 (Fri ~ Fri)

Jogye-sa
Bongeun-sa Temple

Eoulim madang
(Buddhist Cheer Rally)

May 11 (Sat) 4:30 ~ 6:00 pm

Dongguk University Stadium

Lotus Lantern Parade

May 11 (Sat) 7:00 ~ 9:30 pm

Jongno Street (Dongdaemun ~ Jogye-sa Temple)

Hoehyang Hanmadang
(Post-Parade Celebration)

May 11 (Sat) 9:30 ~11:00 pm

Jonggak Intersection

Traditional Cultural Events

May 12 (Sun) Noon ~ 6:00 pm

Street in front of
Jogye-sa Temple

Cultural Performances

May 12 (Sun) Noon ~ 6:00pm

Performance Stage on the street in front of Jogye-sa Temple

Yeondeungnori
(Final Celebration)

May 12 (Sun) 7:00 ~ 9:00 pm

Insa-dong ~ Street in front of Jogye-sa Temple

Buddha's Birthday Dharma Ceremony & Lantern Lighting

May 17 (Fri) Dharma Ceremony 10 am
Lantern Lighting 7 pm

Jogye-sa Temple and all temples nationwide
AboutiBooknow.com
iBooknow.comwas established in 2008 as a one-stop destination for people wishing to book holidays and business trips around the globe. iBooknow.comoffers a wide range of services to our customers, including discounted hotel bookings, car hire and exclusive promotional pricing not found anywhere else through our industry network and partnerships.

From the start, iBooknow.com has always been more than just a travel site. The staff at iBooknow.com care deeply about the reputation of the company, and they will always go the extra mile to ensure that you have a great stay as you travel around the world.

Unlike other travel sites, the prices that iBooknow.com offers include all fees and charges up front. With iBooknow.com, what you see is what you get. iBooknow.com will always make sure that you are getting the cheapest possible room rates, so there is no need to trawl through dozens of sites to find the best available deal.

iBooknow.comhas continually grown and progressed to servicing a worldwide clientele who travels globally, but they still treat every customer as if they were a guest in their home. iBooknow.com's experience servicing traveler's needs and requests is philosophically local, but global in scope. Travel and Hospitality are their passions.
Subjects
---
Tourism