Press release
September 17, 2012
Tourism
iBooknow.com has instantly confirmed hotel accommodations city-wide for the 2012 Formula 1 SingTel Singapore Grand Prix weekend in Singapore. Book now and get the deepest discounts available without any hidden charges or fees. No need to watch the races from afar, get to Singapore now and enjoy three days of spectacular racing and entertainment.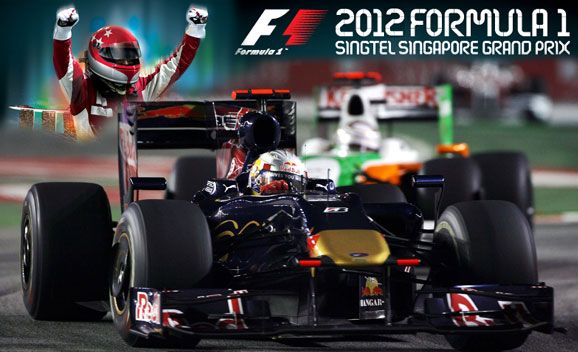 It's not too late,iBooknow.comhas rooms available across Singapore for the 2012 Formula 1 SingTel Singapore Grand Prix weekend. F1 racing which got its start as the European Grand Prix Motor Racing during the 1920's and 1930's, and then became a world event in the late 40's, has gone through many changes over the years, but the one thing that remains is the excitement of being trackside and watching the drivers push themselves and their cars until they set yet one more record for speed, ability and endurance. This year's Singapore Grand Prix will be no exception to those of the past. Excitement on and off the track will take over Singapore as the city welcomes and entertains the crowds and competitors between September 21st and 23rd.
The first Formula One World Championship was won by Italian Giuseppe Farina in his Alfa Romeo in 1950, this year racing greats like Fernando Alonso (Ferrari), Lewis Hamilton (McLaren), Kimi Räikkönen (Lotus) will vie for the coveted top spot. Friday and Saturday will be spent in practice and qualifying races and then the final racing will take place on Sunday September 23rd.
The drivers who will be racing the Singapore Circuit are (in order of ranking):
Fernando Alonso
Lewis Hamilton
Kimi Räikkönen
Sebastian Vettel
Mark Webber
Jenson Button
Nico Rosberg
Romain Grosjean
Sergio Perez
Felipe Massa
Michael Schumacher
Kamui Kobayashi
Paul di Resta
Nico Hulkenberg
Pastor Maldonado
Bruno Senna
Jean-Eric Vergne
Daniel Ricciardo
Heikki Kovalainen
Vitaly Petrov
Timo Glock
Charles Pic
Narain Karthikeyan
Pedro de la Rosa
The Constructor Teams (in order of ranking):
Red Bull Racing-Renault
McLaren-Mercedes
Ferrari
Lotus-Renault
Mercedes
Sauber-Ferrari
Force India-Mercedes
Williams-Renault
STR-Ferrari
Caterham-Renault
Marussia-Cosworth
HRT-Cosworth
It's Not Only About Fast Cars and Racing
Singapore is a multifaceted city with a lot to offer, which is why they are hosting the 2012 Formula 1 SingTel Singapore Grand Prix. Known for being an Asian center for business, banking, and IT, Singapore is also home to some of the world's best hotels, restaurants, shopping, and nightlife. The Singaporean people are friendly and welcoming, and the weather is always warm which helps to attract visitors all year round. Singapore has pulled out all the stops for this special weekend and visitors can be assured that the party has already started, and is gaining a momentum that will be highlighted by Sunday's final races and the crowning of the 2012 Formula 1 SingTel Singapore Grand Prix winning driver and team.
Singapore has chosen to entertain its guests with some world class music during the weekend's events. The main stage will be alive to the music of Katy Perry on the Zone 4 Padang Stage Sunday night at 22.30 hrs, Maroon 5 will also play the Padang Stage on Saturday evening at 23.00 hrs. For those who appreciate Asian talent Jay Chou will open the F1 festivities on Friday night at 23:15. Also entertaining race fans on two occasions during the weekend will be former Oasis star Noel Gallagher's and his High Flying Birds, Friday the 22nd at 20.00 and then again on Saturday at 18:45. Book rooms now and be there to enjoy it all.
A complete list of official entertainment for the 2012 Formula 1 SingTel Singapore Grand Prix:
Katy Perry (USA
Maroon 5 (USA)
Jay Chou (Taiwan)
Noel Gallagher's High Flying Birds (UK)
Bananarama (UK)
The Proclaimers (UK)
Pretenders (UK)
Fuse (UK)
Iva Lamkum (New Zealand)
The Mamaku Project (New Zealand / France)
Tom Thum (Australia)
Mama Kin (Australia)
Soul Mystique (Australia)
N'Faly Kouyaté (Guinea)
Dobet Gnahoré (Côte d'Ivoire)
Rebecca Burch and Alfred Chen (Singapore)
ShiLi & Adi (Singapore)
VOX (Singapore)
The Redtail Cats (Singapore
Angus Watt - The Flags (UK)
La Terra Al Centro Dell' Universo (Italy)
Colur Cubed (Australia)
Graffiti Wall (Singapore)
Leon Keer (Netherlands)
La Valse (Italy)
The Ballerina & La Sens de la Vie (Italy / France)
Urban Drum Crew (Singapore)
Samba Brasil! (Brazil)
Bloco Singapura (Singapore)
Sufi Whirlers (Indonesia)
Austin Flowers (Australia)
Unity Hoops (USA)
Funky Love Squad (Australia)
French Spies (Australia)
Champagne Showgirls (USA)
Captain Jack (Australia)
Nicholas Tweedy - The Mentalist (Australia)
The Artifice Group (USA)
The clubs, cafes, and discos of Singapore will all be host to numerous local and international acts and DJs who will rock the city into the wee small hours of the morning. Singaporean food is some of the best in the world and the wide variety should suit every visitor's taste. If shopping is your thing Singapore has been famous for its diversity of shops and department stores for decades, and was one of the first shopping meccas established in Asia, its only gotten better.
iBooknow.cominvites everyone to log on to their website and book rooms instantly for the upcoming 2012 Formula 1 SingTel Singapore Grand Prix. Don't get stuck at home watching the races from your living room or the local pub, join in with some of the best people on earth, enjoy world class cuisine and entertainment, and have a memorable weekend in Singapore.
AboutiBooknow.com
iBooknow.comwas established in 2008 as a one-stop destination for people wishing to book holidays and business trips around the globe. iBooknow.com offers a wide range of services to our customers, including discounted hotel bookings, car hire and exclusive promotional pricing not found anywhere else through our industry network and partnerships.

From the start, iBooknow.com has always been more than just a travel site. The staff at iBooknow.com care deeply about the reputation of the company, and they will always go the extra mile to ensure that you have a great stay as you travel around the world.

Unlike other travel sites, the prices that iBooknow.com offers include all fees and charges up front. With iBooknow.com, what you see is what you get. iBooknow.com will always make sure that you are getting the cheapest possible room rates, so there is no need to trawl through dozens of sites to find the best available deal.

iBooknow.com has continually grown and progressed to servicing a worldwide clientele who travels globally, but they still treat every customer as if they were a guest in their home. iBooknow.com's experience servicing traveler's needs and requests is philosophically local, but global in scope. Travel and Hospitality are their passions.
###
Subjects
---
Tourism