Press release
January 14, 2013
Tourism
If you are looking for Singapore hotel discount reservation rates for the upcoming 2013 Chinese New Year Celebrations that take place from mid-January through mid-February iBooknow.com has some great rooms for you. We not only have some fantastic booking deals for Singapore, but we are also proud of our no hidden charges instant booking confirmation policy.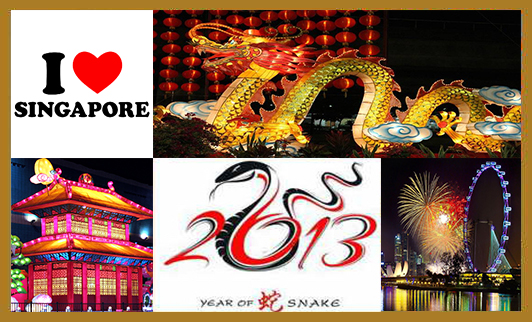 iBooknow.cominvites all travelers to come and celebrate Chinese New Year 2013 in Singapore. These annual month-long celebrations have become the perfect blend of ancient traditions and festivities with a modern flair. Unlike many cities that only celebrate for a few days, Singapore's festivities are over a month long.
2013 is the Year of the Snake and Singapore will celebrate the lunar holiday in grand style with a colorful outdoor light-up, incredible fireworks, traditional lion and dragon lantern dances, delicious food, cultural events, and merit making. Also known as the Spring Festival, Chinese New Year is a time for families to reunite, make merit for good luck in the upcoming year, and eat together.
Held on the first day of the first month of the Chinese lunar calendar it is the time of the year that most Chinese people take their annual vacation. So be sure to plan your Singaporean New Year's holiday well in advance and book with iBooknow.com. Take advantage of our discount reservation rates with no hidden charges and instant booking confirmations.
Although this Singaporean holiday is a month long many of the not-to-be-missed events of the Spring Festival will be held between the 9th and 11th of February. However, fifteen days preceding the Lunar Year everyone flocks to the Marina Bay area for the delightful River Longboat and to view the illuminated lanterns of the God of Fortune and the Chinese Zodiac. The annual street light-up in Chinatown starts on January 19th and does not finish until March 11th. On the first night of New Year there is a fantastic street parade at Eu Tong Sen Street, and New Bridge Road will be alive with performances, a street bazaar, and food hawkers. This same location is where the Chinese New Year countdown will take place on February 9th.
There will be traditional cultural shows in Kreta Ayer Square between January 19th and February 9th. This is the time to enjoy some Chinese opera and the annual international lion dance competition held on the 26th and 27th of January.
Like so many holidays the Spring Festival is a great time for special holiday foods and dining out. Singapore is renowned for its cuisine and during the lunar holiday special "good luck" dishes are prepared and the New Year's Eve meal is the most important one of the season. Chinese New Year is a special time for the Chinese people to dine with family and friends, and for some it is the most important and auspicious meal of the year. They gather together to enjoy savory dishes of pork and chicken, duck and Chinese sausage, fish, lobster, scallops and abalone, jiao zi dumplings, rice and sweets.
Because the Chinese New Year is the most travelled period of the year it is wise to book travel and hotel arrangements early so that you do not miss out on the season's festivities and events. Go to iBooknow.com and plan your Singapore Year of the Snake holiday now.
AboutiBooknow.com
iBooknow.comwas established in 2008 as a one-stop destination for people wishing to book holidays and business trips around the globe. iBooknow.comoffers a wide range of services to our customers, including discounted hotel bookings, car hire and exclusive promotional pricing not found anywhere else through our industry network and partnerships.

From the start, iBooknow.com has always been more than just a travel site. The staff at iBooknow.com care deeply about the reputation of the company, and they will always go the extra mile to ensure that you have a great stay as you travel around the world.

Unlike other travel sites, the prices that iBooknow.com offers include all fees and charges up front. With iBooknow.com, what you see is what you get. iBooknow.com will always make sure that you are getting the cheapest possible room rates, so there is no need to trawl through dozens of sites to find the best available deal.

iBooknow.comhas continually grown and progressed to servicing a worldwide clientele who travels globally, but they still treat every customer as if they were a guest in their home. iBooknow.com's experience servicing traveler's needs and requests is philosophically local, but global in scope. Travel and Hospitality are their passions.
###
Subjects
---
Tourism