Press release
November 29, 2012
Tourism
iBooknow.com invites all travellers to take advantage of their discounted room rates and instant booking confirmation with no hidden fees for the 2012-2013 Christmas and New Year Holiday Season in Bangkok, Thailand. Come to the City of Angles this Christmas and New Year season join the festivities and shop 'til you drop. Celebrate Thai style in the Land of Smiles!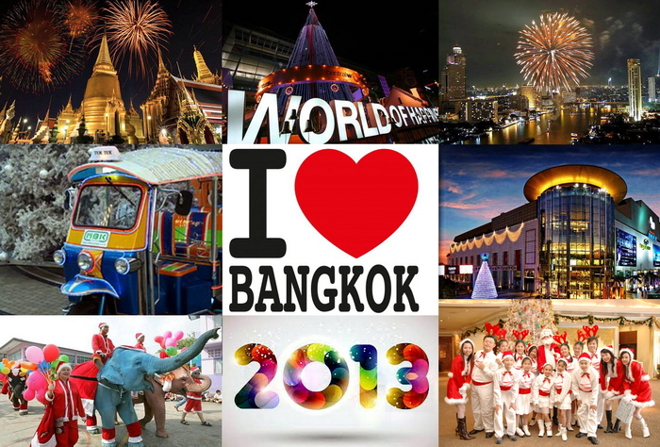 The 2012-2013 Holiday season is fast approaching and iBooknow.cominvites all travellers to take advantage of their discounted room rates and instant booking confirmation with no hidden fees for the 2012-2013 Christmas and New Year Holiday Season in Bangkok, Thailand. Come to the City of Angles this Christmas and New Year season and join the festivities and shop 'til you drop. Celebrate Thai style in the Land of Smiles!
iBooknow.comhas room availability at our usually discounted rates plus some very super year-end deals that you don't want to miss. Along with our guaranteed instant booking confirmations with no hidden fees if you book now you can be in Bangkok for a Holiday Party you'll remember for years to come.
Christmas time the world over means shopping to many people. Travellers flock to Bangkok year-round to view the sights, eat some incredible food, enjoy the nightlife and for many – SHOP! Bangkok has it all from traditional markets, street stall vendors, department stores, and some of the largest, newest and trendiest shopping malls on the planet.
Local Market Shopping in Bangkok:
Whether its clothes, jewelry, electronics, or traditional Thai products Bangkok's markets have it all, and then some. For a bit of local culture and shopping Thai style a trip to the Weekend Market at Chatuchak or the Or Tor Kor fresh food market nearby should be paramount on any Bangkok shopper's list of places to go. These two markets although hot and humid can be a great day of fun and shopping. A maze of alley ways and stalls they are a great place to sharpen your bargaining skills, have some fun, meet the locals and get some fantastic deals. Because they are both easily accessible from Bangkok's BTS Skytrain system most tourists who come to Bangkok to shop make it out to the Mor Chit area to experience these unique Thai markets. Remember, it's not called the Weekend Market for nothing. Chatuchak is only open on Saturdays and Sundays. Once you arrive at Mo Chit don't worry about eating while you are shopping because along with the great deals on goods you will find every kind of Thai food imaginable. The food vendors at Chatuchak provide a great opportunity to sample every manner of Thai delicacies, and many you may not be able to find anywhere else. The fact that all the locals who work at the market eat in these little restaurants means that it's all authentic, tasty, and cheap.
Traditional Local Markets:
Bangkok Flower Market
Damnoen Floating Market
Klong Suan 100 Years
Or Tor Kor Market
Patpong Night Market
Pratunam Market
Rod Fai Market
For a very unique and very Thai shopping experience wake up early one day and take a tour of the floating market in Damnoen Saduak. Although there are others, this is considered to be the biggest and best of them all and tours are available which will make the trip more enjoyable and help eliminate any language problems a visitor may have. It's a glimpse of how life on the canals used to be with a bit of shopping-tourism added.
Floating Markets of Bangkok:
Bang Ku Wiang Market
Damnoen Saduak
Taling Chan Market
Tha Kha
Bangkok's World Renowned Shopping Plazas and Mega Malls:
If it's the latest designer goods, or consumer electronics, mobile phones or jewelry, than downtown Bangkok has some of the world's biggest and most modern malls to choose from, and many are situated within a few BTS Skytrain stations of each other which can make shopping in Bangkok a breeze.
For the most ardent shoppers a trip to Bangkok is not complete without a visit to the famous Ma Boon Kong Mall, MBK for short. Built in 1986 it has become an iconic symbol of Bangkok's shopping scene. There is virtually nothing you won't find in this huge complex, and in line with the Thai lifestyle of non-stop eating there is also a big food court offering International foods and beverages. If you want to take a few hours off from your shopping most of Bangkok's malls have cinema complexes which, like the malls themselves, will astound you. With their sofa seats, artic air-con, and digital sound Bangkok's cinema complexes are some of the most comfortable, affordable, and cutting edge in the world.
For more up-scale shopping visit Siam Paragon, the Emporium or Siam Discovery for their deluxe stores, internationally famous brands of cosmetics, clothes, shoes and any other luxury designer lifestyle goods you can think of, including gourmet markets where you can find items from around the world.
A Short list of Bangkok Shopping Malls:
Amarin Plaza
Asiatique The Riverfront
Central Chidlom
Central Plaza Rama 9
CentralWorld
Erawan Bangkok
Gaysorn Bangkok
IKEA
K Village
Mansion 7
MBK Shopping Center
Pantip Plaza
Paradise Park
Platinum Fashion Mall
River City Shopping Complex
Seacon Square
Siam Center
Siam Discovery
Siam Square
Terminal 21
The Emporium Bangkok
The Esplanade
Tokyu
Be sure to check the Internet for locations and opening hours. If you wish to save a bit more check each store for a tourist's VAT refund.
Finished Shopping? It's Time to Celebrate 2013 New Year's Eve in Bangkok.
Bangkok is famous not only for its endless all day shopping, but its nightlife, dinning and partying. What better time to visit then for the New Year Celebrations?
Many hotels in Bangkok will be offering New Year's Eve buffets and gala dinners, but if yo are the kind of traveller who wants to get out and mingle with the crowds Bangkok has a lot of that too. From a quiet romantic dinner for two, a get-together with special friends, perhaps a mid-night fireworks display, rooftop parties, bar hopping, trendy discos and clubs, there are not enough hours in an evening to see and enjoy it all.
Central World Shopping Plaza will have beer gardens serving up the best brew and local foods that will all culminate in a mid-night fireworks extravaganza and the plaza in front of Siam Paragon will also have family friendly events. For a more intimate time dinning and viewing the fireworks displays book a table at Red Sky in the Centara Grand complex next door. Some other rooftop venues are Vertigo with a panoramic view of Bangkok, and Altitude at the Imperial Queens Park Hotel. Be sure to book reservations ahead of time as these are popular venues with limited seating.
If you prefer a younger and energetic crowd to party with then arrive early and make sure you get access to the shenanigans at Q Bar, Club Culture and Bed Supper Club. For a less frenetic evening of fun a bar crawl down Nana, Sukhumvit, Silom, Ekamai, Thonglor or Khao San Roads may be more your style.
But when the evening has come to an end, and the New Year has arrived, everyone will need a nice soft comfortable bed to sleep in. So log on to iBooknow.comand make room reservations for one of Bangkok's fabulous hotels.
AboutiBooknow.com
iBooknow.comwas established in 2008 as a one-stop destination for people wishing to book holidays and business trips around the globe. iBooknow.comoffers a wide range of services to our customers, including discounted hotel bookings, car hire and exclusive promotional pricing not found anywhere else through our industry network and partnerships.

From the start, iBooknow.com has always been more than just a travel site. The staff at iBooknow.com care deeply about the reputation of the company, and they will always go the extra mile to ensure that you have a great stay as you travel around the world.

Unlike other travel sites, the prices that iBooknow.com offers include all fees and charges up front. With iBooknow.com, what you see is what you get. iBooknow.com will always make sure that you are getting the cheapest possible room rates, so there is no need to trawl through dozens of sites to find the best available deal.

iBooknow.comhas continually grown and progressed to servicing a worldwide clientele who travels globally, but they still treat every customer as if they were a guest in their home. iBooknow.com's experience servicing traveler's needs and requests is philosophically local, but global in scope. Travel and Hospitality are their passions.
###
Subjects
---
Tourism